Girl on the Train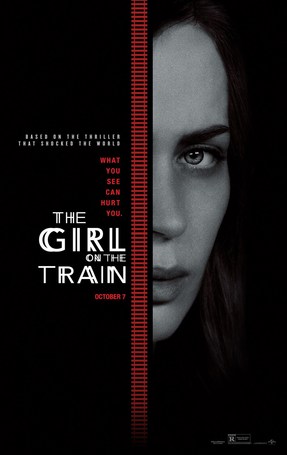 Release/ Premiere Date: October 7, 2016
Director: Tate Taylor
MPAA Rating: R
Starring: Emily Blunt, Haley Bennett, Rebecca Ferguson, Justin Theroux, Luke Evans, Alison janney
Our Rating: B-
After the release of Paula Hawkins' book, The Girl on the Train, readers waited excitedly for the film adaptation of the novel to premiere.  After almost two years, the movie finally arrived and fans of the novel are not as pleased as they could have been.  The premise of the movie was extremely interesting, but it could have been more action-driven.
The Girl on the Train focuses on the life of Rachel Watson (Emily Blunt) who catches everyday glimpses of Scott and Megan, a seemingly perfect couple during her daily train commute.  After learning that Megan has disappeared and is presumably dead, Rachel reports something shocking she saw unfold one day in the strangers' backyard.  Unable to recall the events of that night, Rachel begins her own investigation to uncover the truth.  Time is pressing as police indicate Rachel may have made an enormous mistake.
Betrayal, isolation, guilt and blame, memory, alcohol, lies and deceit play vital roles in discovering Emily Blunt's story and the truth to what happened the night Megan went missing.
While the majority of the action appeared towards the end of the film, it was worth the wait.  Three-fourths of the film was dedicated to introducing all the factors that played a role in Megan's disappearance.  The ending was entirely unexpected leaving viewers in disbelief.  "At first I was a little confused.  I felt the writers could have explained the story clearer.  By the end everything made sense and the unexpected turn at the end of the movie left me in shock," freshman Adriana Montoya said.
The British actress Emily Blunt did an exceptional job of playing the movie's main character: Rachel Watson, the depressed divorcée who is spiraling into alcoholism.  Blunt gives her showiest, most brilliant performance yet proves she was the only person who could have filled Rachel's role in the movie. The entire cast worked diligently to ensure top quality costume designs, costumes, and special effects.
Girl on the Train is categorized as a psychological thriller.  The film is perfect for anyone looking for a mystery or just wanting to make their heart race. Towards the end of the film, the anxiety, action and suspense kick in and the movie gets intense. The extremely voyeuristic and twisted tale is guaranteed to turn viewers' worlds around.