Brady United- Hope for Change!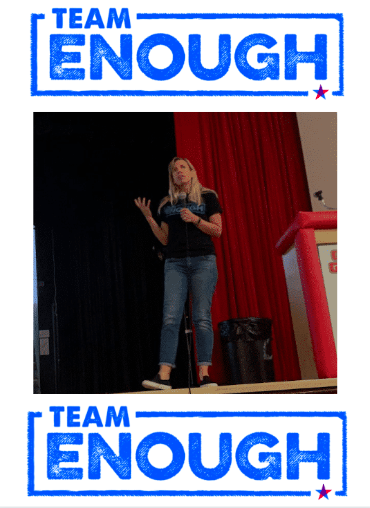 Working across Congress, courts and communities, the group Brady Against Gun Violence, headed by Sarah Brady, has traveled around the country to inform students about the terrifying dangers of unsecured guns. Brady visited Coral Gables Senior High School on Friday, September 6th, as one of the few selected schools to receive a seminar about safe weapon practices and the dangers of gun violence.
Founded in 1974, Brady United Against Gun Violence has been working on unifying people from coast to coast in order to rally for gun safety. It was named after James "Jim" Brady, who was permanently disabled as a result of the Ronald Reagan assassination attempt of 1981, and Sarah Brady, who was a leader within the organization from 1989 until 2012.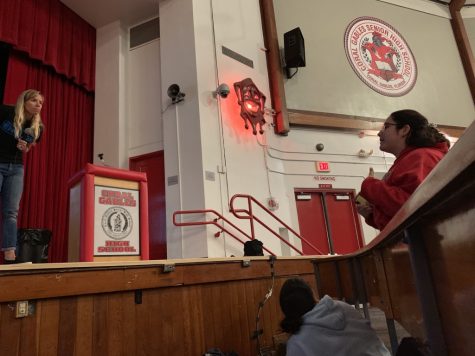 Brady is an organization that aims to rally against gun violence in hopes of lowering gun death statistics. Brady, however, is not an anti-gun organization; they aim at strengthening gun laws in order to prevent the wrong people from accessing guns.
A chapter of Brady, dubbed Team Enough, was created in the wake of the Parkland Shooting. Kisa Shapiro, Team Enough's organizing manager, was the presenter who joined Cavalier students during their fourth period in the auditorium.
During her presentation, Shapiro shared important knowledge on the project End Family Fire,  an informational approach to mass shootings, suicides and accidental firearm deaths of children and teens.
Shapiro experienced her surroundings through the veil of gun violence from a young age, but her horror at the trend intensified when she became a mother.
"When Sandy Hook happened I felt really compelled to get involved in the gun violence prevention movement," Kisa Shapiro said.
Not only as a mother but as a human, Shapiro hopes to help and educate students about gun violence in schools, streets and their homes too.
"
Your generation is the generation that will end the gun violence epidemic"
— Kisa Shapiro
Her presentation End Family Fire hopes to shine a light on shootings that occur both domestically and in public.
One of her main points: a loaded gun and a lapse of parental supervision could lead to an irreversible tragedy. Children playing with a gun and accidentally firing was the most common circumstance surrounding unintentional firearm deaths of both younger and older children.
To prevent this, Brady hopes to inform adults and teens on how to store firearms in places where they cannot be reached by children.
End Family Fire shared statistics with listeners, including the fact that more than 1,300 children die and 5,790 are taken to the hospital for gunshot wounds each year. Shapiro recommended storing firearms in safes only the gun owner can access.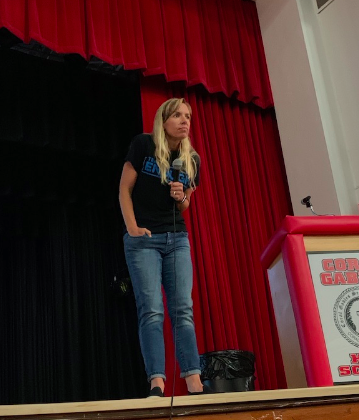 Furthermore, she explained that mental health is a crucial consideration in discussions about gun violence; the U.S. Department of Justice reports that about 60% of all adult firearm deaths are by suicide, 61% more than deaths by homicide.
"I enjoyed the passion that the lady had about the anti-gun violence movement," sophomore Katherine Sanchez said.
Shapiro shared how it is important to report to the authorities any person you might know that may be mentally unstable. Even if it is you, you will not go into any legal trouble but will be offered resources to aid in recovery.
"I enjoyed learning about all of it especially because schools have recently been targets of gun shootings and it's very important to be aware of something that could happen to me," sophomore Isabella Toledo said.
Brady hopes to make more in-depth background checks. Believing in changing legislation if the United States strengthens the background checks they can avoid handing guns into the wrong hands of criminals, mentally unstable and violent people.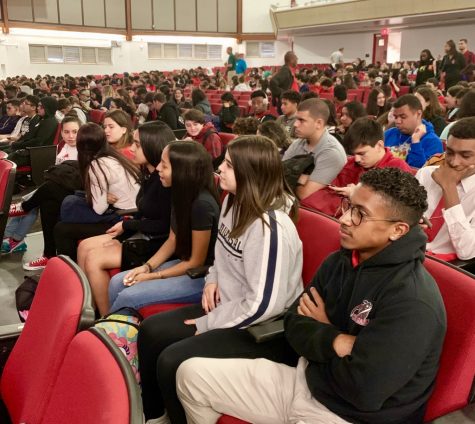 Hoping to change legislation, the organization aims to prevent unstable individuals from having access to weapons by starting on the front-end instead of terrorizing students with lock-downs.
Even if the goal of ensuring universal background checks on gun-buyers is attained, Shapiro hopes to continue working on spreading the word about this unsettling epidemic and does not plan to stop until there is a drastic reduction in the number of annual gun violence deaths in the world.
If you have any other questions or hope to join TeamEnough, do not hesitate in contacting Kisa Shapiro at [email protected] or visiting their website teamenough.org and bradyunited.org