Continuing the Legacy: Celebrating the 2023 NHS Induction Ceremony
During the yearly esteemed National Honor Society induction ceremony, members who had achieved a Grade Point Average of 3.0 or higher, completed at least 10 hours of community service per semester and embodied the four essential NHS traits, scholarship, service, leadership and character, were recognized for their accomplishments.
On Wednesday, April 12, the ceremony began with a warm welcome from the club's current presidents, seniors Maria Jose Cestero and Grace Zaky. During their speech, they highlighted the rigorous criteria that each member met to receive a formal invitation to the event. Additionally, they expressed their gratitude to Principal Tony Ullivari and NHS sponsor, Ms. Landsea, for their support towards the institution.
"Planning [the] induction at first was, of course, very overwhelming, since it is such a large club. As the event came closer, it was just really fun seeing everything come together, the decorations, desserts, speaker, the certificates, and everyone helping out with the event. When I got to see everyone walk in with their parents while I was on stage speaking, it made me really happy, because everyone at Gables should be proud of their accomplishments, especially in NHS," senior Maria Jose Cestero said.
The current secretaries then presented the four pillars of NHS. Ava Volman initially spoke about scholarship, followed by Maria Odio, who discussed service, Gloria Arce, who presented leadership and finally Arianna Hoyos, who spoke about character. These four pillars demonstrate the initiative and morals in each NHS inductee.
"My office is scholarship. Scholarship denotes a commitment to learning. A student is willing to spend hours reading and studying, knowing the lasting benefits of a cultivated mind. We should continue to learn even when formal education has ended, for human education ends only with the end of life," junior Ava Volman said.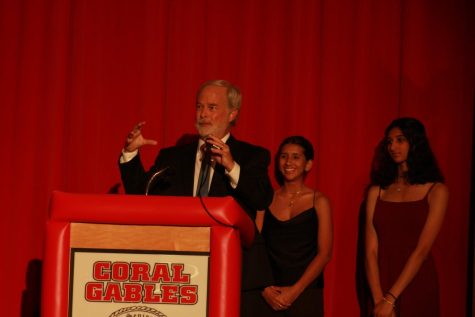 Afterwards, Principal Ullivari took the microphone and extended his congratulations to the students for their achievements. Encouraging school pride and student excellence, he touched each student's heart with his inspiring words. He ended his speech with his trademark phrase, "Always remember, Go Cavs!"
Following this, Gables alum and current commissioner for the city of Coral Gables, Kirk R. Menendez stepped onto the stage as this year's guest speaker. His speech quickly transitioned from humorous to inspiring, as he provided the students with guidance for their future endeavors. Talking about his personal experience in his work career, he highlighted what he believed to be the most important lesson there is: the power in showing compassion to others. 
The inductees were then called up one by one on stage to receive their Certificate of Membership. After all the inductees received their certificates, they remained on stage for a group photo and recited the honor society pledge.
Following this final step for inductees, everyone was requested to return to their seats for the announcement of the new board. The current co-presidents invited the two presidents-to-be onto the stage to announce the remaining members of the board, all of which had been carefully selected over the past month. As each name was called, the audience cheered and offered congratulations to their future club leaders. The 2023-24 NHS board was comprised of the following individuals:
Co-Presidents: Ava Volman and Lenox Balzebre
Vice-President: Laura Ridoux
Senior Secretaries: Veronica Montalvo and Virginia Gozalo
Junior Secretaries: Valentina Gutierrez and Talah Pharoan
Sophomore Secretaries: Anabella Rodriguez and Julia Volman
Treasurers: Dominick Rodriguez and Roberto Sosa
Historians: Moon Anderson and Andrea Winklejohn
InnerView Coordinator: Frank Gozalo
"I'm extremely honored to have be chosen to be part of the NHS board. Junior year on the board will bring so many new opportunities and projects. I feel that next year will definitely be a very stressful year, since it'll be the year I start IB. However, I feel that NHS will make it a little less stressful, since there are people like Mrs. Landsea and other [upperclassmen] on the board that can help me with any questions I have about IB. I'm extremely grateful for this opportunity, and I can't wait to start," sophomore Virginia Gozalo said.
Cestero and Zaky made their closing remarks, once again expressing their joy for all the newly inducted and official NHS members. The ceremony was adjourned, and students brimmed with pride as they made their way to the reception outside, ending the night with a variety of desserts to enjoy with their friends and family. 
Leave a Comment
Your donation will support the student journalists of Coral Gables Senior High School. Your contribution will help us cover our annual website hosting costs.
About the Contributor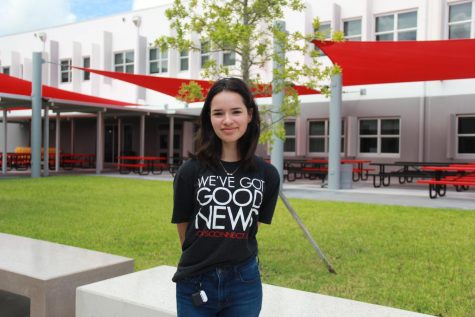 Maria Odio, CavsConnect Features Editor
Maria Odio is a senior at Coral Gables Senior High and is looking forward to continuing her writing career this year as features editor for CavsConnect....