Class of 2024 Goes on a Wild Ride at Islands of Adventure
This year, the annual Busch Gardens class trip tradition was broken by the Junior Class of 2024, who instead chose to go to Universal's Islands of Adventure for a novel experience.
The junior Cavaliers arrived at Coral Gables Senior High at 4:45 a.m. on Jan. 27 after just having school the previous day. However, on this day, students showed up with their pillows, blankets and their comfiest attire for the 3.5-hour long bus ride to Islands of Adventure. 
For the first half of the early bus ride, most of the Cavaliers spent their time either catching up on their beauty sleep or their favorite shows. Eventually, the bus came to a pit stop near Port Saint Lucie and the Cavaliers were given the opportunity to stretch their legs before the second half of the trek. As an added bonus, they were able to enjoy bagels and cream cheese courtesy of Ms. Monzon, the class of 2024 sponsor.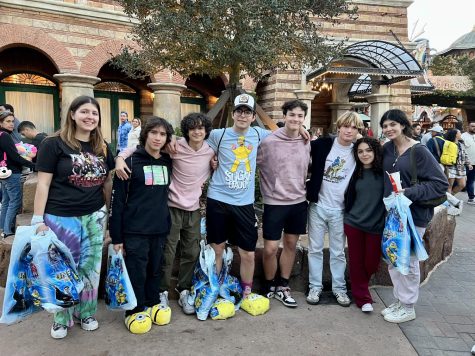 On the bus, the students utilized Bluetooth speakers to come together with music. Throwback hits were played like "I Want it That Way" by the Backstreet Boys and more recent songs like "Feel This Moment" by Pitbull.
"The bus ride was an overall positive experience because even though we might not have been connected by a smaller class size, we were connected by the experience of being on the ride to Islands of Adventure and even the music. I was approached by people I had never met before because they wanted to request a couple of songs. It was a bus full of strangers but at the end we all came together to sing karaoke," junior Dominick Rodriguez said.
At around 9 a.m., the 100 students and their chaperones walked into Universal City Walk before parting ways inside Islands of Adventure. Some students made their way to Marvel Super Hero Land and rode on "The Incredible Hulk Coaster" while some entered the 140-minute line for "Hagrid's Magical Creatures Motorbike Adventure". 
"This was my first time at Universal since I am more of a Disney fan however, it did not disappoint. I could go on all the rides I really wanted to go on including the Hulk, VelociCoaster, and even Hagrid's motorbike. I was, fortunately, able to get in and out of the Hagrid line in 90 minutes, this is short for what it usually is. This one was personally my favorite, I loved the speed of it and it even went backward and had a small drop," junior Victoria Largaespada said.
Those looking for a quick break from the blazing sun went on "Dudley Do-Right's Ripsaw Falls" for a quick splash of water. Unfortunately, what deceptively appeared to be a small stream of water turned out to be a big wave that would leave them soaking wet from head to toe in the 50-degree weather. 
"My group and I had to learn the hard way that the water rides in Universal are no joke. We went into the ride by Popeyes in Toon Land and we thought only one of us would get slightly wet. Boy were we wrong. We all ended up having to buy $45 sweatpants because we didn't want to freeze. Our shoes were also drenched in water," junior Roberto Sosa said.
Near the end of the day, some students decided to complete some last-minute shopping or play their luck by going on a last-minute park attraction. By 6:30 p.m., almost nine hours later, everyone was back in their respective buses.
At 10 o'clock on the dot, the bus arrived at Gables. If it were not for their aching feet and heavy eyes, it would have seemed like the trip had never happened, as the sky seemed unchanged from when they departed in the morning and returned at night. 
Leave a Comment
Your donation will support the student journalists of Coral Gables Senior High School. Your contribution will help us cover our annual website hosting costs.
About the Contributors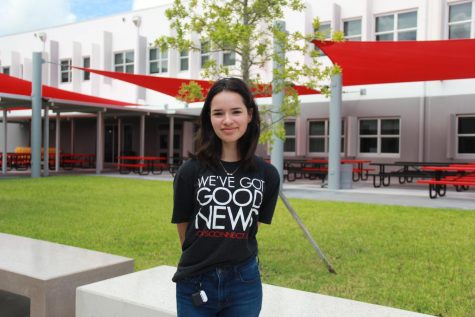 Maria Odio, CavsConnect Features Editor
Maria Odio is a senior at Coral Gables Senior High and is looking forward to continuing her writing career this year as features editor for CavsConnect....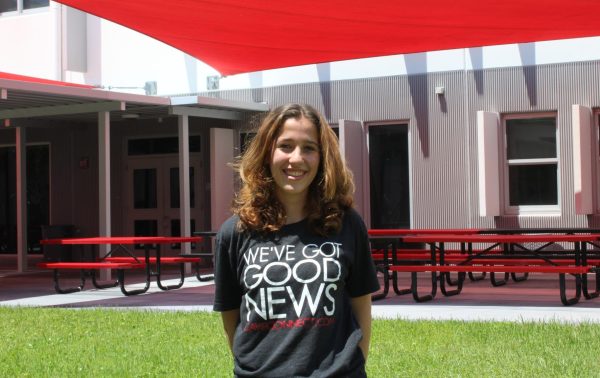 Laura Ridoux, CavsConnect Co-Editor-in-Chief
Laura Ridoux is a senior in the International Baccalaureate program. This is her third year in CavsConnect and she is very excited to return as co-editor-in-chief...