The Class of 2022 Takes Over Islands of Adventure and Universal Studios
After months of planning and fundraising, the class of 2022 took their long-awaited trip to Islands of Adventure and Universal Studios on Friday, Nov. 8, for a day filled with exhilarating rides and class bonding. 
The day began at the crack of dawn, at 5:00 in the morning, when sophomores departed from Gables headed towards Orlando. After a five-hour drive, they arrived at Universal Studios ready to explore the park and experience the classic, exhilarating rides.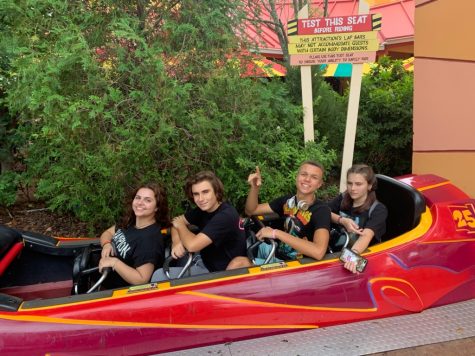 Universal and Islands of Adventure , located just outside of Orlando, appeal to every type of visitor with attractions ranging from Harry Potter World to high-thrill roller coasters.
The three most-loved rides were the Hulk, Rip Ride Rocket and the newest Harry Potter ride called Hagrid's Magical Creatures Motorbike Adventure.
The Hulk, a long-time favorite with thrill-seekers, starts off with its riders being propelled at 40 mph and immediately goes down a 105-foot drop into a series of loops.
Rip Ride Rocket riders have about 30 seconds to sit down, lower the lap-bar, and choose a song. The ride begins on a vertical lift and continues on several loops while the song that the rider picked to play during the ride plays in the background.
Hagrid's Magical Creatures Motorbike Adventure speeds to a high peak, then reverses into a dark cave where a quick acceleration down shocks and thrills the riders. 
There were also rides that appealed to students who were not fond of roller coasters, such as the Simpsons ride and the Gringotts Wizarding Bank ride located in Harry Potter World.
Since the trip took place in November while many visitors are at school, the lines for rides were incredibly short; students waited 10 to 20 minutes for rides that would usually take an hour or more to notice.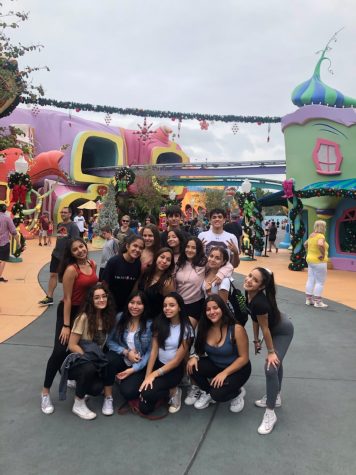 "The sophomore class trip was amazing. We started the day pretty early, and we got on the bus relatively fast. I am looking forward to next year's trip and I would one hundred percent do it again," sophomore Sofia Alcaide said
As the day continued, students had a variety of options to eat lunch with their friends, such as Panda Express, Voodoo Doughnut, and Hard Rock Café. There were also food stands that hold sold snacks such as popcorn, ICEES, chips, pretzels and pizza. 
"I had such a great time on this trip. There w-as enough time to enjoy both parks plus there was good weather…I would go again next year but I recommend taking extra socks, shirt, and more comfortable clothes so the way back you can change," sophomore Carlo Polita said.
When the field trip came to an end, the Cavaliers began their late-night drive back to Miami and took advantage of the bus ride to catch up on sleep.
After a fantastic trip, the class of 2022 is now looking forward to their junior class trip and encourage everyone to attend next year.