College-Bound Cavs: College Application Day Event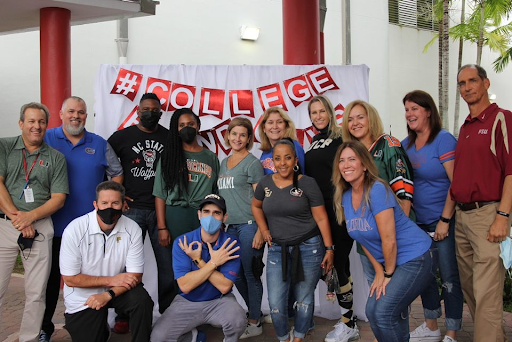 The week that college applications are due is usually characterized by tense seniors rushing to finish their personal statements and entrance essays. A milestone for upperclassmen, Coral Gables Senior High School celebrated the Class of 2022's futures this year with College Application Day.
Hosted on Oct. 22, the event took place in front of the 9000 building during both first and second lunch. Replete with both seniors and faculty demonstrating their college pride, Gables celebrated those who have already applied and encouraged students who have not yet to do so.
Organized by College Assistance Program Advisor Ms. Driver, students were given the chance to join in on activities such as college bingo while they ate their lunch.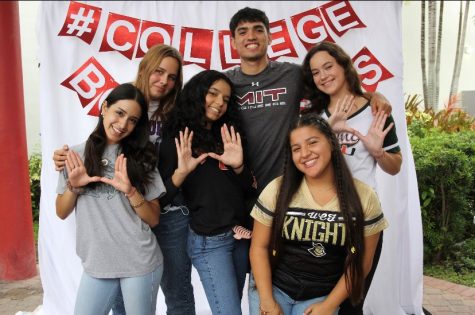 "I think the event was a great way to get our students excited about applying to college! As students work towards Nov. 1 deadlines, this lunch event was a great way for students to come out and be supported by Gables faculty members," Ms. Driver said.
Although seniors joined together to test their knowledge about the application process in games such as trivia, the most popular attraction of the day was the photo booth. Marked by a bright red sparkly banner reading "College-Bound Cavs", students joined together and posed in front of the camera with Gables-themed props.
While the event was geared towards seniors and underclassmen wanting to be educated on the college application process, teachers and faculty did not hesitate to return to their college for a day and dress up in merchandise representing their alma mater.
Gables faculty members were encouraged to flaunt their college gear for the day as part of a competition between different departments including the English, Social Studies and Student Services departments. Staff members were enticed to show their spirit by the promise of the most spirited group winning a paid lunch with Principal Ullivarri. The victor was the Social Studies department, decided after CavsConnect put out a poll on their Instagram for students to vote on the department they thought had the most spirit.
"The college application event was a fun experience for us seniors to make applying to college more joyful. I thought playing trivia of different colleges was a fun way to test our knowledge and also wearing a college shirt and seeing the different colleges students are applying to is very interesting," senior Katrina Carpintero said.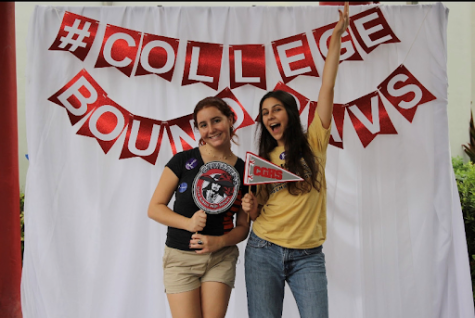 With early action deadlines due on Nov. 1, many students applied in advance to get a head start in their futures. Applying early ultimately gives seniors more time to make a final decision about what school they will attend.
Although the College Application Day Event is over, the college application process is not. Those who have not applied or with questions about the process are encouraged to reach out to their counselor and use the resources Gables provides.
Though the college application process can at times be difficult at times, with the help and support of the Gables staff, Cavaliers are sure to be college-bound.