Cavalier Basketball Season Cut Short Due To COVID-19 Exposure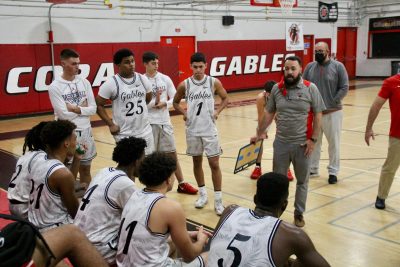 The Cavalier Basketball season has been swiftly cut short due to COVID-19 exposure despite the entire team having tested negative. Coral Gables Senior High players were exposed to the virus during their game with an all boys private school, Christopher Columbus, who tested positive days after a game. However, the Columbus Explorers are still being allowed to continue with its season. Gables students are adamant that they should be given the same chance to move forward, with the situation sparking demands that the district reconsider its position.
Gables faced off against the Columbus Explorers in a match on Feb. 12 where the Cavaliers won with a score of 69-52. Little did the players know, this fateful game — which at first seemed a cause for celebration — would actually cost the team its spot at the playoffs. In the days following the match, three Columbus students tested positive for COVID-19.
"Hard work almost always guarantees opportunity, but in this situation is was taken away from us," senior Marcos Molina said.
In light of the news that they had been exposed by the all boys private school, Gables players immediately took Polymerase Chain Reaction tests, which are considered the "gold standard" for their reliability in COVID-19 detection. Every single team member, as well as the coaches, tested negative. This was reported to the Miami Dade County Public Schools District in accordance to safety regulations.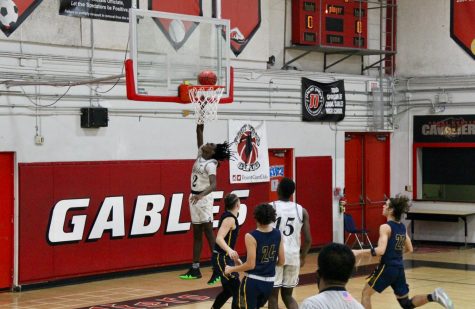 Although no players had contracted the virus, MDCPS is still requiring that Cavaliers quarantine for 14 days. Furthermore, when it came to their playoff game against Miami Palmetto Senior High School on Saturday, Feb. 20, the team was notified only two hours before the match that they would not be able to play and were being forced to forfeit. Now, the team has essentially been terminated; if they do not play their next game by Tuesday, Feb. 23, Gables will be eliminated from the tournament.
"We have guys on this team looking for scholarships to go to college, who don't have the resources to pay for it, and they are taking it all away. We have worked so hard this year…and we have demonstrated all negative PCR tests…We find it very unfair that Columbus, who actually had COVID-19, was allowed to play today. I, Romulo Delgado Gonzalez, captain of Coral Gables basketball, on behalf of everybody on the team, am beyond disappointed and heartbroken by the treatment that the county has shown us today," junior Romulo Gonzalez said.
The fact that Columbus is still being permitted to play has only added more fuel to the controversy. Although the Explorers were the ones that initially contracted COVID-19 and exposed other teams, they were allowed to compete against John A. Ferguson High School on Thursday, Feb. 18. Columbus was allowed to do this simply because it is a private school, meaning that it does not have to abide by the same rules that a public school like Gables does where students have to quarantine for two weeks. As of now, they are continuing the season and awaiting their next game.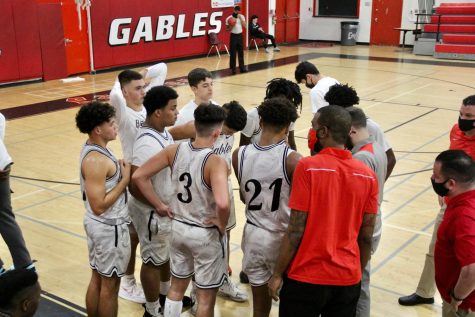 "At the end of the day we should all be treated equally. If they are allowed to play we should be allowed to play too. This isn't fair. Columbus has three positive tests and we have all negative tests yet they can play and we can't," junior Danny Gonzalez said.
Cavaliers are devastated by the district's decision, and are pleading with MDCPS on social media to be given the same opportunities as other schools. Columbus' coach, Andrew Moran, has declined to respond to questions from reporters so far. Marcos Molina, a Gables player's parent, has stated that the team "can't even practice." After a long season with 14 wins and only four losses, Gables players hope that the district hears their cries and allows them to move forward for a chance at the state championship.