Cavaliers Lead Gables to States Once Again
Every year, the Future Business Leaders of America club sends Cavaliers to district competitions to compete for awards and gain recognition. Because of COVID-19, competitions were made virtual for the 2021 season. Despite these changes, students from Coral Gables Senior High still exceeded expectations and will advance to state competitions, which will be hosted virtually. A total of 29 students ranked from first to sixth place blew away the competition with their performances at FBLA districts this year.
Gables students either took part in scheduled objective tests on Jan. 19 or submitted videos of presentations for performance events. The winners will now have the opportunity to move on to states, where the best students from all Florida districts come together and the competition increases. The events that they participate in range in categories such as Hospitality Management, Entrepreneurship, Marketing, Graphic Design and more.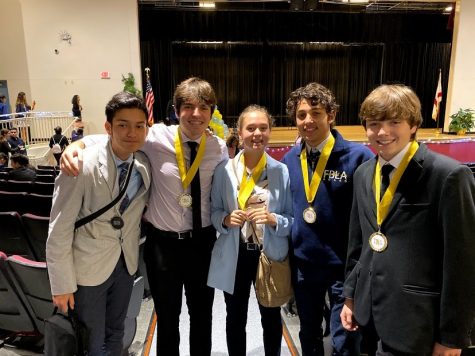 Diego Moran
Diego Moran is a junior in the Academy of Finance and has been a part of FBLA for three years now. Before entering high school, Moran would have described himself as a shy person. He still looked for something new to experience, and that is when he was introduced to FBLA. The competitive aspect provided an opportunity for him to discover what exactly he was passionate about in the business environment.
Moran finally decided to challenge himself by taking on Impromptu Speaking, a competition he would remain committed to for the past three years. Moran had always loved public speaking and claims to be incredible at creating speeches in an instant. This in turn led to Moran winning second place for his competition, which has awarded him the opportunity to advance to states this year.
"States for me means that I was good enough to represent Miami-Dade and I get the opportunity to prove myself that I can compete at the state level. It fuels my competitive drive and it is an honor to be going," junior Diego Moran said.
Although states are going to be virtual this year, this is no bother for Moran since just last year he had experienced the same event online and was confident that it would run more smoothly this time around. As for winning, Moran hopes to prove that he is one of the best impromptu speakers in all of Florida and potentially on the national level as well. Moran gives administrator of the club Mr. Reisert a tremendous amount of credit for always pushing and encouraging him as none of this would be possible without him.
Ana Rodriguez
Ana Rodriguez joined FBLA with aspirations of becoming a more well-rounded student. She also hoped to try something new since the club presented many opportunities during her sophomore year. Rodriguez and her two teammates took part in the Hospitality Management competition and came in first place, securing them a spot in states back-to-back years now.
"I am already happy that we are going to states. If we were to win the entire competition, I would be over the top happy and proud," junior Ana Rodriguez said.
There was no other competition that Rodriguez was considering as she had her mind set on Hospitality Management. Although it is not something she is entirely sure she would like to pursue as a career, Rodriguez believes Hospitality Management provides skills that everyone should be acquainted with, especially with the doors it will open in the professional world.
Although states will once again be virtual, every competitor who is advancing to the next stage of the competitions is prepared and looking forward to having a chance to move on to nationals. Students across the country will also be competing for an opportunity to represent their states, but we know that our Cavaliers will always give it their all.
Third Place Winners:
Carolina Aguilar
Second Place Winners:
Stephanie Monroy
Linet Carballea
Samuel Sommer
Diego Moran
Olbin Gil
Mia Cabrera
First Place Winners
Jennifer Urbina
Justin Pujol
Alan Morffi
Anthony Russo
William Beardslee
Nataly Rabelo
Eugene Francisco
Caitlin Peters
Christy Concepcion
Courtney Jensen
Anastasia Herrel
Ana Rodriguez
Vivian Lowe
Nicolas Cruz