The Andrea Jaime Medical Leader's Guest Speaker: Tanya Thomas
This past Thursday, Nov. 14, Gables' new medical club had their second guest speaker of the year, a second-year medical student at the University of Miami. The medical student, Tanya Thomas, was kind enough to answer any questions club members had, and spoke about her experiences throughout college and medical school.
Thomas informed students that she attended Duke University and later moved to Florida, where she is originally from, to attend the Miller School of Medicine. Though she did not want to discourage any students from pursuing a career in medicine, she did speak about her time as a premedical student and how it was hard because of all the studying.
She also enlightened them about her duties as a second-year medical student and what she does with other doctors. Thomas shadows other doctors to get a taste of certain medical specialties, such as trauma, neurology and cardiovascular professions.
"Hearing about all these types of specialties really opened my eyes and made me wonder what I really want to do as a doctor," senior Kristen Sosa said.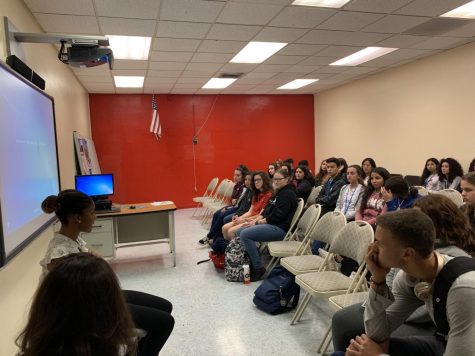 Students asked about her experience shadowing a doctor to which she explained that it depends on the specialty and each student's particular area of interest. So far she has been interested in transplant surgery and needs to find a transplant surgeon to shadow.
In response to a student question, Thomas explained her "craziest moment" while shadowing a doctor: witnessing a surgery in a patient's room when he could not make it to the operation room.
Thomas even gave advice to students about a medical career. She advised students that they do not have to decide right at this moment what kind of doctor they want to be since there will be ample time to explore specialties in the future. Additionally, she noted that the hard work that she put into her studies and the seven years she spent in post-secondary education will be worth it.
The meeting was very interactive; after answering student questions, Thomas asked the students what they wanted to specialize in. Students answered with all types of specialties, such as being a pediatrician, a family doctor, a general surgeon and a bariatric surgeon.
"She was able to connect very well with the audience and give them honest answers and advice to all their questions," junior Vanessa Grau said.
She left students with a lot of information that may seem overwhelming but many attendees were very interested and excited to start working in the medical field.