Miami-Dade Youth Town Hall: Teen Voices being Heard
On Oct. 26, an event known as the Miami-Dade Youth Town Hall was presented for the first time in the Coral Gables Congregational Church. It was proudly hosted by one our Coral Gables juniors, Aya Hamza, President of the Miami-Dade Teen Democrats, along with senior Daniella Berrospi and Janet Hernandez. Many other students from Coral Gables Senior High School participated and were even able to speak at the event.
A Coral Gables alumni, Fresiano Correa, and current IB junior, Nadja Marrero, also greatly contributed by working as the event's photography team.
The Miami-Dade Youth Hall took months worth of planning and a vast amount of time reaching out to local politicians, elected officials, candidates, community leaders and schools.
The idea for such an event was created by Aya Hamza, who noticed with additional students that that youth now have no direct or main platform and media in which they can influence government and speak out about what they believe in. The idea was accepted by the executive director of the Miami-Dade Democrat Party.
The creation of the Town Hall was mainly focused on the goal of giving youth the opportunity to politically engage themselves with their community and to encourage their interest and involvements in politics. The plan started in May and it was finally finished and made achievable in August of this year.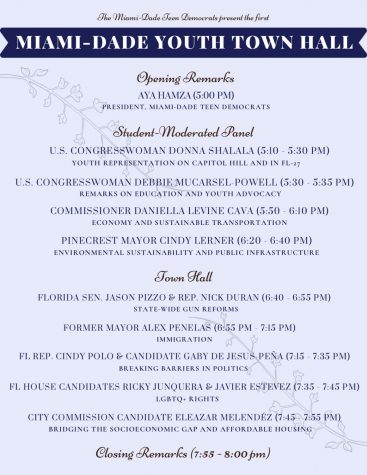 The event took place from 5 to 8 p.m. In the first half of the event, Aya Hamza made her opening remarks, which led to the student moderated panel. There was a variety of subjects being discussed during that time period. They spoke clearly about youth representation on Capitol Hill, remarked on education and youth advocacy, the economy, transportation, and environmental issues that concern not only older generations but the younger ones as well.
Political influencers like U.S. Congresswomen Donna Shalala and Debbie Mucarsel-Powell attended, as well as Commissioner Daniella Levine Cava and Pincecrest Mayor Cindy Lerner, who each delivered their own powerful speeches.
For the second half, the actual Town Hall began, where serious topics were analyzed, focusing on human rights, gun reforms and immigration. In this section, former Mayor Alex Penelas spoke in addition to Florida Senator Jason Pizzo and Representative Nick Duran.
"The event was a great way for the youth to interact with different politicians from all over the state! It was really well organized and there was always something for the guests to do during the breaks. Also, it was a great way for the politicians to speak about causes that are important to today's teens like funding for college and LGBTQ+ rights," junior Sara Ebrahimi said.
Multiple organizations, including youth-run groups, made their appearance at the event. Some of these organizations included the Miami-Dade Democrats, The Children's Trust, Engage Miami, the Miami Transit Alliance, who took surveys during the event to improve bus routes, Young Leaders Summit, Students Demand Action, and multiple environmental groups which were Fridays 4 Future, Extinction Rebellion, and Florida Youth Climate Strike.
Many other students from Coral Gables Senior High School participated and were even able to speak at the event. Student Council President Alexander Sutton discussed and asked questions about affordable housing and general economic issues. Sophomores Benjamin Pla, Jana Faour, and Maia Berthier also asked questions and took part in this event.
This was all made possible through organizing teams from other schools including BioTECH Richmond Heights 9-12 High School, Coral Reef Senior High School and Miami Arts Studio.
"Simply put, it was a lot of fun. So many public servants showed up to talk about their plans to help South Florida, and people my age got to address the concerns of the youth, which usually go unheard because most of us are too young to vote. Congrats to my friend Aya for putting the whole thing together, and congrats to Generation Z, which is finally finding its voice and exerting influence on our leaders," senior Alexander Sutton said.