The Future is Ready, So Are We: College Fair 2019
On Oct. 7, juniors and seniors visited the on-campus College Fair. Many colleges from around the nation gathered together to exhibit their campuses, application requirements, and summer programs. Each university offered fliers and shared contact information so students could remain informed on any additional announcements.
The yearly event is hosted by the school's Parent Teacher Student Association, which are the parent volunteers that denote time to the school and its community. The organization authorized students, mostly members of the gables National Honor Society, worked to aid in running the event. With the help of the student volunteers, they rearranged tables and set up table cloths, providing each college a section to promote their schools.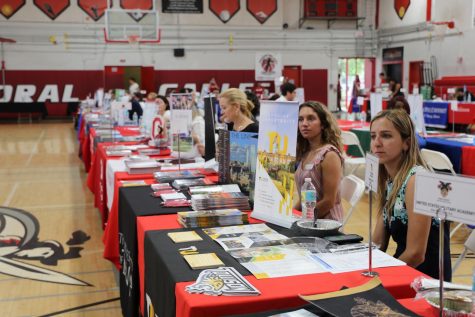 The long day of college-readiness education was divided into three sessions. Students scheduled time from their day to visit the fair and discover more about specific universities that they may be interested in. With jazz music playing in the background, groups of students were given 45 minutes per session to strike up conversations with the college representatives.
"The College Fair gave me an inside look into a lot of colleges that I had not known about. It enhanced my curiosity to learn more about specific colleges. Since I was working the event, I was able to see the behind the scenes work and how insightful and eye-opening it all is," junior Nadja Marrero said.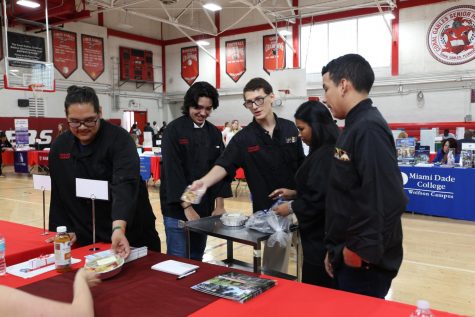 Other groups that were involved include JROTC, who paraded the American flag as the Chorus group displayed their musical skills by singing the National Anthem. Later on, the Culinary Arts program provided savory treats to the representatives, as well as lunches with a vegetarian option. The PTSA also offered a Cuban espresso to keep the representatives energized throughout the lengthy College Fair.
This year's Club Fair offered over 50 college representatives for students to speak with from in-state and out-of-state universities. Popular schools such as the University of Florida, Florida State University, Florida International University, the University of Central Florida and the University of Miami had waiting lines long enough to block walking paths in
the gym.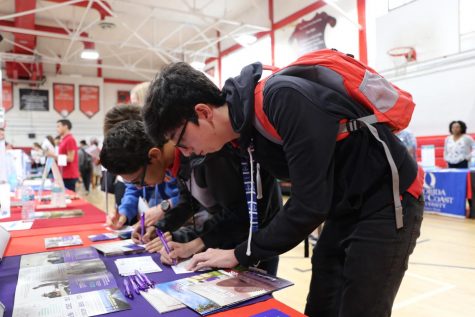 "As a result, I increased my college list. Before I was applying to 5 schools, but now, I have expanded my list to include 5 more schools from the fair. Overall, I am very glad that I went," senior Alex Cobas said.
Every college offered fliers with more detailed information regarding the school's demographics and programs.  Students were also informed about how to start college applications and when to begin the process, particularly because application deadlines are quickly approaching.
The event's success prompted students to look into different institutions to continue their education and to think about their preferences for their future universities. With this information, seniors can prepare to begin the college admissions process that will take them into the next chapter of their lives.