Gables Hosts its First-Ever International College Fair
The international spirit of Coral Gables Senior High came to life during both lunch periods on Friday, Oct. 11, with the first-ever International College fair, located in the school gym. The event was put on by the gables Parent Teacher Student Association along with College Assistance Program advisor Ms. Driver to give students a taste of what post-secondary education outside of the United States might be like.
Though slightly smaller than the domestic on-campus college fair held on Oct. 7, the International college fair still attracted students from all grades to visit the representatives from schools across the globe. No passes were required to enter the fair, so students were able to enter at any time during their lunch periods and browse the schools for the full 30 minutes.
Students from 9th to 12th grade chatted with the representatives about the advantages of not only attending college abroad, but also of attending each specific university. Representatives walked students through the majors and minors their programs offer, the differences from American universities in educational styles, and the logistics of applying to a foreign university.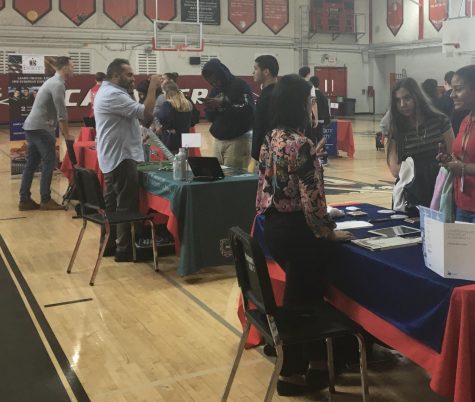 For instance, students learned that many European schools can be applied to by the same Common Application accepted by most American universities, but there are several exceptions. Each university also varies in its policy of accepting IB, AP, or DE credits that students have completed over their high school careers, though they generally are far less likely than domestic institutions to convert these classes to actual college credit.
Representatives from schools located in Spain such as IE University, Endicott International, and UIC Barcelona, stressed how useful it can be for students to learn a foreign language during their university years. For the many students at Gables who already speak Spanish, the experience of studying in Europe can expose them to new cultures without the difficulties of overcoming any language barriers.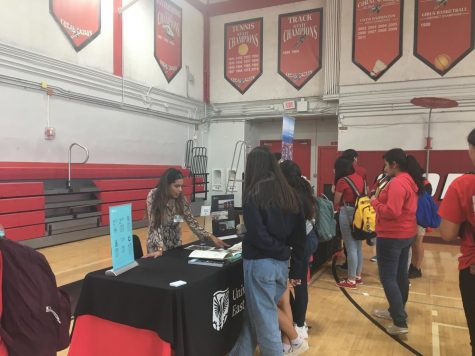 Schools from the United Kingdom, such as the University of East London, were also present at the International college fair. Beyond the exposure to different places and cultures that students can gain by studying abroad, it may also be more affordable to study in nations such as England. There, the cost of education is capped by the government at £9,250, or $11701.25, per year and averages several thousand dollars less, whereas one year of college in the United States can cost upwards of $60,000.
"I was drawn to the University of East London because it allows students to get their bachelor's degree in three years, it doesn't have any prerequisite classes, and it's located very close to Wimbledon," junior Vivian Lowe said.
As the season for college applications draws near, this first on-campus International college fair was a chance for college-bound Cavaliers to broaden their horizons, and possibly the beginning of a new Gables tradition.
About the Contributor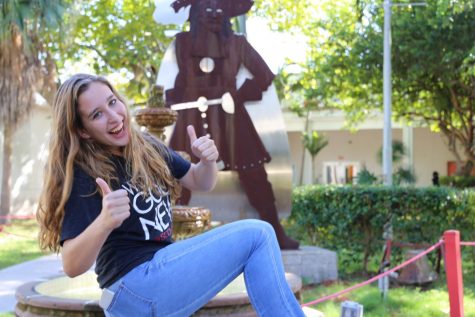 Chase Bagnall-Koger, News Editor
Chase Bagnall-Koger is a Junior in the International Baccalaureate (IB) program who is excited to be returning to CavsConnect for her second year as as...