Prom: Night of Nights
On Saturday, April 27, our Cavalier Seniors went to the J.W. Marriot Miami in Brickell for the night they've been looking forward to since they stepped into the school – Prom night. Students put on their elegant dresses and suits to look their best at the floral reception. Many students rented party buses, limousines and SUV's to arrive at prom together. Playing their favorite music on the ride there, students gathered with their friends, having fun and enjoying the ride.
The J.W. Marriot was beautifully decorated with pink cherry blossoms and chandeliers. Students enjoyed a buffet of food, filled with tasty ribs, chicken, mahi-mahi, rice and salads. After enjoying their meal, students could not help but dance with the fun music, ranging from Latin to rap songs, played by the energetic DJ.
"I really enjoyed the music selection they had this year, it included many different genres so there was something for everyone to dance to," senior Melanie Elguezabal said.
The part of the celebration that students claimed was one of the best parts was the pictures. Students lined up to take pictures in the photo booths to take pictures with their friends and their teachers. These pictures would capture memorable moments that would last for a lifetime. One of the photobooths was a green, grassy background with beautiful flowers and a 2019 sign.
When the seniors were arriving at the reception, they had the opportunity to vote for prom king and queen. The prom royalty represents the people who are truly admired and represent Coral Gables High School. After a night of food and dancing, Mr. Costa finally crowned Dennis Zapata and Natalie Aller while the crowd cheered and congratulated the couple.
"It was so cool to have voted and seen first hand Mr. Costa crown the prom king and queen, they are a great couple," senior Aisel Galvez said.
It was a night to remember to say the least. Everyone enjoyed their final big event with the entire class of 2019 before graduation. While this time may be bittersweet, it was an event that most students looked forward to since their first year in high school and it exceeded many of their expectations. Next up, graduation!
About the Writer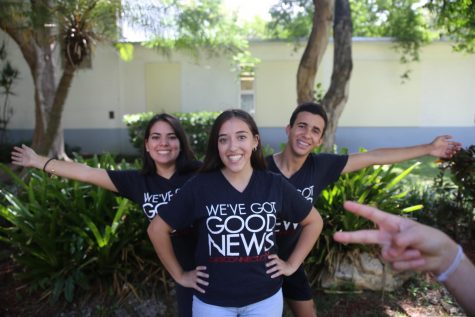 Adriana Castro, Staff Writer
Finally a senior in the International Baccalaureate (IB) program at Gables, Adriana "Adri" Castro is excited to embark on her new journey as a CavsConnect...