Partial Government Shutdown Continues over Funding for Border Wall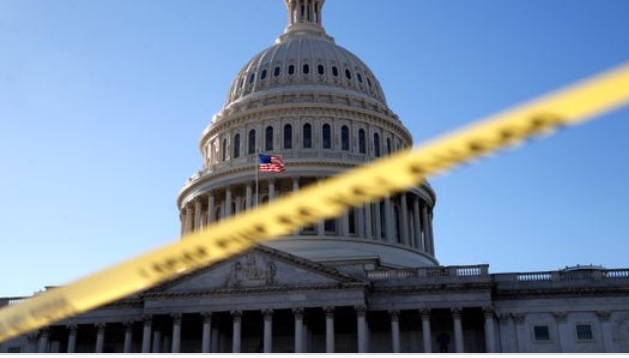 Federal employees across the nation can expect to work without pay or remain home after the end of winter vacation, as the government remains partially shut down. With no end in sight to the disagreement about the budget for a potential border wall on the Mexico-United States frontier.  Government workers deemed 'non-essential'  may find their holidays unfortunately extended as congressional Democrats wrestle with the president to reach an agreement.

In a Christmas day video conference with representatives of all five military branches, President Trump relayed his unwavering position in favor of a boarder wall. "I can't tell you when the government's going to be open…I can tell you it's not going to be open until we have a wall or fence," President Donald Trump said.

The shutdown took place over the weekend after lawmakers refused to agree to five billion dollars in funding to begin building a border wall or fence, something Trump promised throughout his 2016 presidential campaign. Democrats argue that it a a poor use of funds, and likely to be as ineffective as it is costly.

"I think that despite what our president says, our 'immigrant problems' will not be solved by building a wall. The project is unnecessary, expensive, and goes against the morals the US was built on," sophomore Nina Montero said.

According to Politico, Trump has expressed willingness to budge on his initial demand for the border fence, but his opposition remains firm, offering a maximum of $1.3 billion. On Dec. 22, Vice President Mike Pence offered New York senator Chuck Schumer a bill that would provide $2.1 billion for fencing and an additional $400 million for other immigration-related costs, as well as end the government shutdown; but this bill was never voted on.

"We need to see more willingness to compromise in government because when these situations are not resolved it is the lowest-payed workers who usually suffer," freshman Alejandro Garcia said.

In addition to jeopardizing the jobs of thousands of government employees, this shutdown also affects nationally-owned entities all across the country. National parks made site-by-site decisions on whether or not to close, but those that remain open are without visitor services such as snowplowing or lodging. Make sure to plan ahead, as park-run facilities – including bathrooms – will remain closed until the shutdown is resolved.

The processing of visas and passports could be delayed – the State Department, which has limited staffing may be less efficient in updating people's travel or immigration status. Additionally, loan requests filed to the Federal Housing Administration or the Small Business Administration may be processed slowly due to limited workers.

In response to the government shutdown, President Trump has canceled his holiday trip to Mar-a-Lago, his Florida estate, and instead remained in the White House where he has aired his grievances about the situation via Twitter. On Dec. 24 he tweeted, "I am all alone (poor me) in the White House waiting for the Democrats to come back and make a deal on desperately needed Border Security." As recently as Dec. 27, he tweeted, "Have the Democrats finally realized that we desperately need Border Security and a Wall on the Southern Border…"

[powr-twitter-feed id=2bcdeef7_1545933282437]

Despite the President's twitter protests, there seems to be no deal in sight which would end the shutdown. With negotiations at a stalemate, the situation is expected to continue into 2019.