Living the Out-of-State College Tour Experience
On Nov. 2, 12 students participating in this year's out-of-state college tour embarked on their trip, arriving at the Fort Lauderdale International airport at 8:30 A.M. From the terminal, they boarded their flight en route to LaGuardia Aiport in Queens, New York. Once they touched down in New York, students gathered their bags, climbed into their pre-planned vehicles and were on their way to check into the first hotel of the trip, The Paul Hotel in New York City.
In New York, students visited Pace University, New York University (NYU), Fordham University, and Columbia University. For some of the tours, the group met with former Coral Gables Senior High alumni students to get to learn about their favorite food spots, the best classes they have taken so far, and the honest insight into their respective schools.
After completing their tours, students were given downtime to sightsee. Students visited the Museum of Modern Art, they walked around Central Park admiring the change in seasons, and also visited Time Square. The group of students even attended a Broadway play as a way to really enjoy their time in New York. The students saw a production of "Mean Girls" at the August Wilson Theatre.
"My favorite school had to be NYU. I loved the campus and how it's integrated within the heart of New York and surrounds the gorgeous Washington Square Park. My favorite state was definitely New York as I'm much more of a big city girl and could see myself living there in the future. My favorite activity was watching Mean Girls on Broadway it was amazing to see one of my favorite childhood movies incorporated into a musical while still staying true to itself," junior Lauren Urra said.
Urra is a junior in the International Baccalaureate program and decided to go on the Out-of-State College Tour trip to broaden her view on where and what schools she wants to apply and ultimately attend to. She wanted to experience the campuses in-person to get the experience of walking the grounds, talking to the students, and going to campus hot spots because it is not the same as a virtual tour online.
"
This trip exceeded beyond my expectations and I learned a lot about myself and what I'm interested in and definitely opened my mind to the type of school I would want to attend.
— junior Lauren Urra
After their time in New York, the group traveled down to Philadelphia to visit some of the best schools in the state. Having left New York Nov. 6, students had three days to take in as much the city as they could before returning back to Miami. The schools the group went to visit were Villanova University, Haverford College, University of Pennsylvania, Swarthmore College, and Temple University. Like in New York, after the students toured the schools and attended informational sessions, they went on explorations of Philadelphia to really get a feel for the town. This is most important as the main purpose for the trip is to not only visit the schools but to visit the towns and really decide if you, as the student, could imagine yourself living there for the next four years of your college life. The group also went to see the famous Liberty Bell, they also visited a local cookie shop that is frequently visited by college students as they serve some of the best cookies in Philadelphia.  
"My favorite school that we visited was UPenn because I loved Philadelphia and was impressed by the immense amount of opportunities available there. I preferred Pennsylvania over New York because Philadelphia seemed like a calmer and safer city environment," junior Lia Sanchez said.
Lia Sanchez-Madrigal, a junior in the International Baccalaureate program, attended the trip with the hopes of "getting a glimpse" of what these two states had to offer school wise. Sanchez-Madrigal was asked to give her honest accounts of the experience she lived through the week she was away touring with the group. Sanchez-Madrigal says she mainly was focused on the pre-medical tracks, science departments and research opportunities in the schools they visited, "schools like Columbia and UPenn, as Ivy League universities, are ranked higher in preparation for medical school and I was interested in seeing why and exploring the competitive environment at these schools," junior Lia Sanchez-Madrigal said.
The cost of this year's trip was roughly $1,500.00 with the money going towards the cost of the airplane ticket, hotel, and other transportation costs. There are scholarships available and are usually announced by our College Advisor, Mrs. Stack. This trip serves as a great opportunity for students to be exposed to the atmosphere of the campuses they will be applying to shortly after their junior year concludes. Every year it is usually a new destination, however, the class officers will usually take a consensus of the student's preference of states to visit towards the end of their sophomore year, as that is when the planning of this trip begins.  If an underclassman, do consider attending as it is an informative trip with fun stops at every corner. One will not only learn about wonderful schools but will also be able to experience fun moments with friends as one realizes college applications are fast approaching.
Leave a Comment
Your donation will support the student journalists of Coral Gables Senior High School. Your contribution will help us cover our annual website hosting costs.
About the Contributor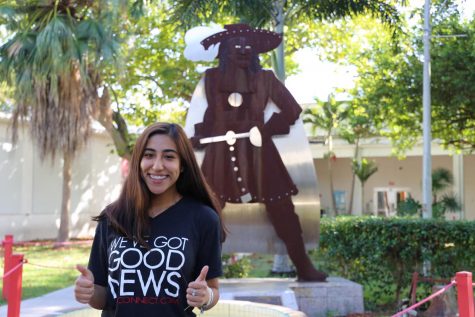 Jesse Zambrano, Spotlights Editor
Jesse Zambrano is a senior in the International Baccalaureate (IB) program. When she arrived to the US, it was clear to Zambrano how important it was to...