Cav Camp 2018
Hang on for a minute...we're trying to find some more stories you might like.
The first week of summer brought rising freshmen of the Coral Gables High School's International Baccalaureate (IB) program to the campus for an introductory camp known as Cav Camp. Students attending Cav Camp left their backpacks and notebooks at home and instead spent the week learning about their new school and meeting their future peers and teachers.
The Tradition of Cav Camp began as a way to introduce incoming IB freshman to Gables before their first day of school. New students inevitably get lost at least a few times in their first weeks, wandering back and forth through seemingly identical hallways. But, after CavsCamp, incoming IB freshmen will have the advantage of knowing the school better than some of their peers by seeing its physical layout as well as learning about all the sports, clubs and extracurriculars it has to offer.
Incoming students were grouped into eight regions of the world (South Asia, East Asia, India, France, Italy, Germany, Greece and Africa) to create three projects: a time capsule, a video and a skit inspired by the culture of their region. Similar to the school year, Cavs Camp students spent the week in four period days, alternating between 'even days' (where they visited periods 2,4,6 and 8) and 'odd days' (where the visited periods 1,3,5 and 7).
Each class brought a new topic for the incoming cavaliers  – some were school-related, while others dealt with learning about the culture of each region or formulating ideas for the skits and videos. Ms. Gonzalez, an IB language arts teacher and highlights supervisor, was responsible for providing a history of the school, emphasizing the importance of getting involved during freshman year and increasing awareness of all the after-school clubs and sports available. Next door, IB math teacher and Cavaleon advisor, Ms. Zuniga helped each group examine the contributions their region has made to the world in the areas of science, technology, engineering, arts and mathematics (STEAM) and build a three-dimensional model of that contribution.
Ms. Barrow, an IB theater teacher, helped the students to brainstorm ideas for their skit and practice it in preparation for their performance on the last day of Cavs Camp. Meanwhile, Mr. De Armas worked with the campers to come up with ideas for and film their videos. "Mr. De Armas's class was my favorite because I liked his energy and working on the videos," rising freshman Elizabeth O'Meara said.
Beyond the physical projects created throughout the week, one of the major goals of Cav Camp is to build school spirit by making freshmen feel connected to the school. Everyone at the camp memorized the iconic Coral Gables High Alma Mater, learned that the school's official colors are gray and crimson (not red!) and received a quick history lesson on the founding of the schoool in 1950. Once the new school year starts in the fall, a good amount of cavalier spirit and knowledge about the school will make for an easier adjustment into high school.
On last day of Cav Camp, the students finally presented their week's work to a panel of judges. Following a breakfast of delicious and sugary cereals, the campers filed into the auditorium and performed their skits, which varied in plot from African dance battles to German fashion shows to spinoffs of classical Greek tragedies. They also presented their videos, yelled out their cheer and gave their time capsules to the returning Gables alumni to judge.
"The last day was the most memorable day of Cav Camp for me because everyone was just having fun and the videos were really funny," freshman Brooke Fernandez said.
The judges used a point system to pick the 2018 Cavs Camp winners, resulting an a three-way third place tie eventually resolved by a short 'rock, paper, scissors' tournament. India won third place, East Asia took second and Greece was the first place Cavs Camp winner. The judges also awarded South Asia the new award of 'Best Cheer.' Regardless of the winners, this year's Cav Campers will come back from summer vacation ready to take on a fun and challenging year at Gables.

About the Photographer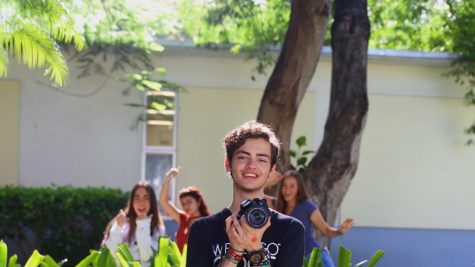 Andres Velasco, Multi-Media Editor
Andres Velasco is a senior in the International Baccalaureate (IB) program at Gables. During his final year in CavsConnect,  he hopes to not only improve...