Universal: The Adventures of the Class of 2020
For months now, the anticipation within the class of 2020 has risen as the days until the annual class trip continued to wane. This year, sophomores had the chance to visit both Universal Studios and Islands of Adventure theme parks in Orlando, Florida for an adrenaline-filled day of roller coasters and attractions. The resorts are rated as some of the top tourist attractions and amusement parks in the country.
"My favorite part of the trip was being able to spend time with my friends and new people I met that joined our group. I liked that there were relatively short wait times that day, so we were able to make the most out of the experience," sophomore Lia Sanchez said.
The Cavaliers began their day early in the morning on Feb. 2, arriving to school at 4:00 a.m. to prepare for the four-hour road trip. The bus headed out at 5:00 a.m. and sophomores began to settle down for the long journey.
Despite the long drive, students managed to find ways of entertaining themselves by singing along to movies such as High School Musical and Hannah Montana. As the bus got closer, the excitement grew. Upon arriving at the resort at around 9:00 a.m., students split off into their own groups and began running in order to get the best spot in line for their favorite rides before the park became full of people.
The most eager students quickly ran towards the most intimidating roller coasters in the park: the Incredible Hulk and Rip Ride Rockit. Harry Potter fanatics excitedly swarmed to the Wizarding World of Harry Potter in Islands of Adventure and took a special interest in the newly added Diagon Alley and Potter Express. Harry Potter fans aren't the only ones who got to enjoy their fandom's rides as King Kong enthusiasts rode the 4-D animated King Kong ride.
"My favorite part of the trip was getting to go to Universal Studios for the first time and riding Rip Ride Rockit over and over again," sophomore Mindy Miranda said.
As the day dwindled down, sophomores tried to get in as many rides as possible before boarding the bus at 5:30 p.m. After an adrenaline-charged day of roller coasters and walking from park to park, many of the students dozed off on the long bus ride back home. Overall, the class trip was a day full of positive memories and bonding for the class of 2020, making this a day to always remember and cherish.
About the Writer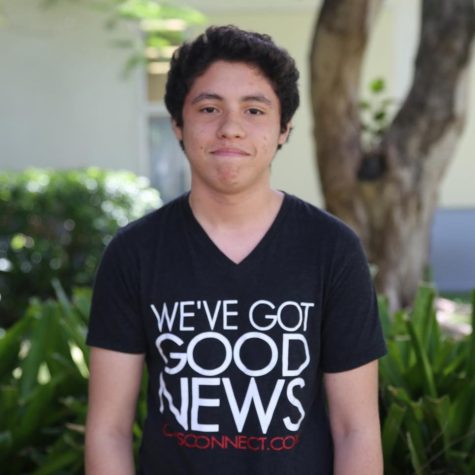 Miguel Lemus, Staff Writer
Miguel Lemus is a junior in the International Baccalaureate (IB) program at Coral Gables High School.  Lemus is excited to see what the school year will...