New Year, New Agenda
January is the time of the year when many of us make goals for ourselves and those around us. President Trump, in keeping with this tradition, released his plans for 2018 as the hectic mid-term elections approach. In Sept. of 2017, controversy sparked when President Trump repealed DACA, leaving many undocumented immigrants that came to the U.S. at young ages uncertain and worried about their future. This all changed when a televised meeting aired to settle a deal to keep almost 800,000 DACA immigrants protected under the law. President Trump then went on to reveal his plan of hopefully working alongside Democrats to incorporate money into improving U.S. infrastructure.
"I feel like Trump is only creating a deal for DACA because of all the backlash he got for announcing its repeal. His whole campaign revolves around protecting Americans, yet excludes these Dreamers that have been brought up as Americans. He seems to forget that America is a nation built on immigration," sophomore Isabella Pablo said.
In Dec. of 2017, Trump criticized the federal courts after a district judge in California decided to place a ruling to keep DACA in place despite Trump's repeal of it. The President later created an alternative for those whose status was protected under DACA. This deal would help him receive funding for increased border security. His plans for increased border security don't necessarily mean extending the border wall, but rather increasing technology within the walls to prevent illegal crossings. On the other hand, Democrats pushed for the continuation of the Dream Act, which offers young immigrants the chance to legally work in the U.S. Six senators have been working tirelessly to create a deal that would consist of other changes to immigration laws, but satisfy both Democrats and Republicans. Democrats are also expecting the Republicans to stop Trump from ending the diversity lottery. This would allow visas to be attainable to those immigrants that were once under temporary protection status, but have been unable to attain visas since Trump's termination of the program.
"I think it's a terrible plan. DACA students help our economy and kicking them out will just cause more economic problems," junior Lucianne Vivas said.
President Trump also announced that his main goal for 2018 is to improve infrastructure. He proposed that he would spend at least 200 billion dollars, with another trillion dollars from state and local funding going towards these improvements. Both Democrats and Republican agree that infrastructure should be worked on, but believe that the amount that Trump plans on spending is way too low for the expected costs.
After the major loss of Republican Roy Moore to Democrat Doug Jones in a strictly red state, and with midterm elections on their way, Trump is struggling to find a compromise with the Democrats. If he wants to have a chance at gaining the majority vote in November, he must find a solution and work alongside both Democrats and Republicans to do so.
About the Contributor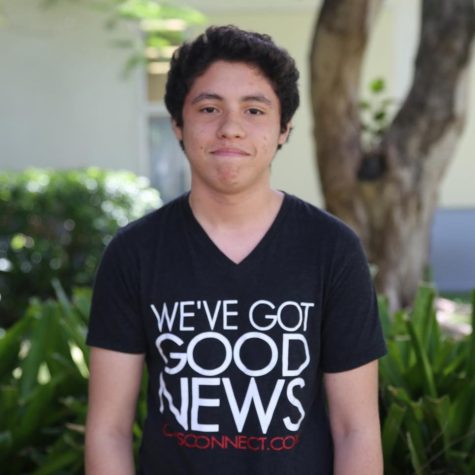 Miguel Lemus, Staff Writer
Miguel Lemus is a junior in the International Baccalaureate (IB) program at Coral Gables High School.  Lemus is excited to see what the school year will...