Miami-Dade Regional Office Visits Gables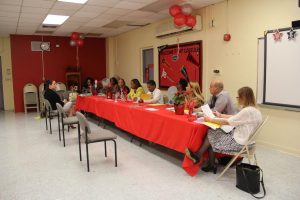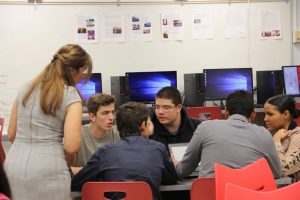 In honor of the recently selected Teacher of the Year, Ms.Carranza, the Miami-Dade County Central Regional Office visited our campus on Dec.1 to evaluate Ms.Carranza's teaching style and interview her before a panel of judges. The purpose behind the interview is to consider Ms.Carranza as a possible Teacher of the Year representative for the Central Region. The committee that served as the panel was comprised of administrators of all grade levels, parents and a Gables alumni. We are very proud of having such a strong candidate to represent at a regional level.
"We are the Central Region Office and are the Teacher of the Year and Rookie Teacher of the Year selection committee. The purpose is to identify among the already incredible school teachers, one that can best represent our office for 2019. Our committee is compromised of three configurations (elementary, middle, and high). We have five teachers on the panel, one parent representative and one community/business representative. We review about 119 packages that represents the nominated teacher for every school. The reviewing of packages takes two days and we spend two days conducting classroom visits. Some of the areas we review are: teaching practice, community involvement, instructional practices, student and teacher interaction," said Katyna Martin principal of West Miami Middle School and committee representative.
To read more about Gables' selection of the hard-working, Ms.Carranza, click here!