Gables Students Make Commissioner Lago's Day
Hang on for a minute...we're trying to find some more stories you might like.
On Sept. 1, 2017, Coral Gables Commissioner Vince C. Lago visited Coral Gables Senior High to hand out 25 book bags to students for the 2017- 2018 school year. Being greatly involved with Coral Gables Senior High, he also unsolicitedly donated $2,500 towards the out-of-state college tour trip that the class of 2019 will embark on in November. Spending time with the Cavalier family brings Commissioner Lago a great sense of joy as he enjoys coming to meet and talk with the prospering students he believes are the generation that will lead to great successes in the future. "Coming here, talking with you, shaking hands with you, sharing with you, it makes my day." said Commissioner Vince Lago as he spoke to the students that gathered in the auditorium entrance to receive the book bags.
Mr. Lagos was elected to his first four-year term on April 12, 2013, and ran for a second term unopposed and was re-elected on April 11, 2017. He was sworn in as City Commissioner on April 28, 2017. Mr. Lagos is affiliated with several community boards. He is part of the Board of Directors for the Coral Gables Community Foundation, Liga Contra El Cancer, Locust Project, Miami-Dade County League of Cities, and PACE Green Corridor. He also serves as the Community Liaison to the Board of Directors at the Coral Gables Museum.  Having a passion for both art and culture, he also serves as a board member of the City of Miami's Arts and Entertainment Council. Mr. Lagos additionally cares for the preservation and quality of life for the residents of the Coral Gables community.
"Commissioner Lago is one of the few politicians in the city that I feel genuinely cares about the people, especially high school students and I find it honorable that he has taken time to make people our age a priority," junior Alejandra Orozco said.
When asked why he ran for public office, Mr. Lagos responded, "I ran for public office because I've always had an interest in politics and I love the city of Coral Gables. This city is a very special place and I knew that I could hopefully affect change in a smaller city. I knew that there was a lack of leadership in regards to certain things that I was very interested in, like financial stewardship and the stewardship of the environment which is critical. I also wanted to see Coral Gables Preserved for my children because this is a beautiful city and there isn't anything like it in South Florida."
Mr. Lagos is also leading an initiative to build a dog park and several other parks in the northern area of Coral Gables where there is a denser population. He also wants to continue making the preservation of the environment an important focal point for the City of Coral Gables. Recycling is a subject he plans on tackling during his second-term, as well as introducing initiatives for buying more electric cars. Lago also wants to work on key issues such as sea-level rise which is a hot-button issue not just at a local level but the federal one as well. He is excited about the future and ready to begin working on the plans to better the City of Coral Gables.
About the Contributors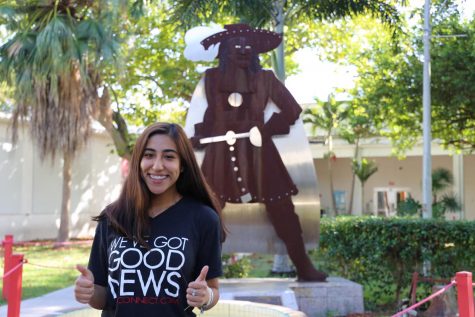 Jesse Zambrano, Spotlights Editor
Jesse Zambrano is a senior in the International Baccalaureate (IB) program. When she arrived to the US, it was clear to Zambrano how important it was to...