CAF & DM Takes FSPA '17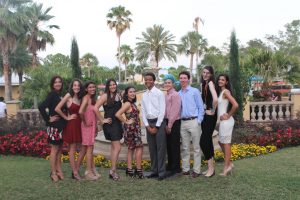 Ready to immerse themselves in the wonders of journalism and compete head-to-head against some of Florida's best publications, the Communication Arts, Film, and Digital Media (CAF & DM) Academy participated in the Florida Scholastic Press Association's (FSPA) state competition at the Wyndham Orlando on April 27-29. At the competition, students were granted the opportunity to participate in On-the-Spot contests, where they were given a prompt or music tune at the beginning of the conference and had to turn in the finished product at various deadlines. A highlight of the conference was the "Edit to the Beat" contest in which participants (Jonathan Guitierrez, Alexander Labella, and Felix Lopez) were given a one-minute tune, with which students had to make a video consisting of clips from the conference. In fact, the students from Gables placed third in the state and their video submission can be accessed by clicking here.
"A few hours after arriving at FSPA, a few of us had different competitions for our different genres. I competed in On-the-Spot Short Story contest, and spent nearly two hours in a room with about twenty other writers, trying to write a good story under three pages that fit the prompt. Luckily, FSPA kept me so busy going in and out of sessions that I didn't drive myself completely crazy worrying every second about whether or not would place. So when they announced that I won first place, I could not have been more shocked," sophomore Ana De la O said.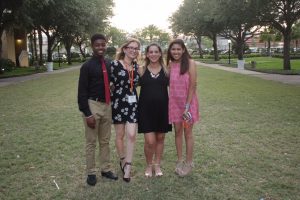 In addition to the competitive atmosphere, the FSPA offered a multitude of workshops on the second day of the conference  to ensure that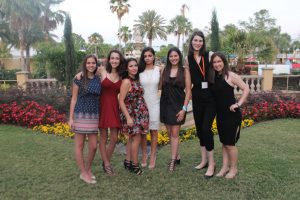 participants would learn techniques that could improve their publications. Some of the workshops covered the topics of copy editing, peer work in journalism, storytelling, fake news, and social media. The sessions were led by educated advisers and students on topics that aimed for improvement in writing, photography, and videography. Over 16 different workshops were held, giving all the students a shot at learning new information that could benefit publications.
"In the past three days, FSPA was not only a memorable experience but also showed me ways to improve my writing and designing skills in order to help my publication and people in my team," sophomore Rosana Morales said.
Cavaliers stood out amongst other publications and placed in multiple On-the-Spot competitions and took home over 20 Spring Digital Contest Awards in total for all the CAF & DM publications (CavsConnect, Highlights, Catharsis, Yearbook, and Gables Live! Broadcast). The winners are below:
Highlights Newspaper/Newsmagazine
Adviser: Melissa Gonzalez
Evaluation:
All-Florida publication with two Marks of Distinction (Layout/Design & Reader Aids)
On-the-Spot Contests:
Audrey Weigel – Mixed Company 2nd place
Spring Digital Contests:
Best of the Best:  Mariam Vela – Review writing
All-Florida:
Estelle Erwich & Mariam Vela – Editorial
Sarah Galt – Newspaper/Newsmagazine multi-page spread
Excellent:
Dylan Carol – Off-Campus News Story
Amanda Pallas & Audrey Weigel – Off-Campus New Story
Kevin Monjarrez – General Feature Story
Tatiana Campos & Karina Wu – General Feature Story
Natalie Viglucci – Review
Angelle Garcia – Review
Honorable Mention:
Vanessa Vazquez – Newspaper/Newsmagazine news page
Leila Iskandarani – Infographic
Olivia Field – Personality portrait
Sofia Viglucci – Profile Story
Benjamin Estrada – Newspaper/Newsmagazine Opinion page
Gables Live! Broadcast
Adviser: Yvette Camacho
On-the-Spot Contests:
3rd Place Edit to the Beat
Felix Lopez, Alex Labella, Jonathan Gutierrez
Spring Digital Contests:
Best of the Best:  Andrea Zelaya – Best Buzzfeed
Best of the Best:  Andrea Zelaya – Quick Turn Cooking
All-Florida:
Jose Chang – Nature Photo
Harrison Bradish – Public Service Announcement
Excellent:
Jonathan Gutierrez – Commercial
Marta D'Ocon, Jose Chang – Short Film
Honorable Mention:
Melanie Wu, Felix Lopez – Feature Package
Jose Chang, Alex Labella, Sasha Zeinali – Broadcast Profile
Felix Lopez, Sasha Zeinali – Sports Package
Jose Chang, Sasha Zeinali, Alexander Labella – News Package
Jonathan Gutierrez – Broadcast Show Opening
Jose Chang – Special Effects Photo
Gabriel Rondon, Alexander Labella – Hot Shots
Alexander Labella, Sasha Zeinali – Quick Turn-Deadline News
Khareem Oliver, Felix Lopez – Quick Turn- Marketing
Catharsis Literary Magazine
Adviser: Michelle Zaldivar
On-the-Spot Contests:
Ana de la O – 1st Place Short Story
Angie Lopez – 2nd Place Poetry
Spring Digital Contests:
All-Florida:
Literary Magazine Prose – Ana de la O
Literary Magazine Spread – Carly Dickler, Christian Florian, Chris Cowen, Maddi Cowen
Excellent:
Literary Magazine Poetry – Angie Lopez
Honorable Mention:
Literary Magazine Poetry – Camila Blanco
Literary Magazine Poetry – Veronica Silva
Literary Magazine Prose – Moira Meijaard
Literary magazine Spread – Melissa Valladares, Wendy Labarcena
Quick Turn – Fiction and Illustration – Andrea Izurieta, Bryan Cruz
CavsConnect Online Newssite
Adviser: Ana Suarez
Evaluation:  – Gold
Spring Digital Contests:
All-Florida
Natalia Torres – Review
Excellent
Natalia Torres – Campus News Story
Kelsy Pacheco – Campus News Story
Albany Muria – Campus News Story
Maria Estrada – General Feature Story
Thomas Harley – Humorous Commentary
Natalia Torres – Review
Natalia Rodriguez – Review
Samantha Palacios – Hand-Drawn Illustration
Cameryn Padron – Sports Action Photography
Honorable Mention
Yeileny Lopez – Off-Campus News Story
Thomas Harley – General Feature Story
Alexander Yagoda – General Feature Story
Natalia Rodriguez – Entertainment Feature Story
Natalia Rodriguez – Entertainment Feature Story
Thomas Harley – Entertainment Feature Story
Maria Estrada – Profile Story
Emily Simon – Profile Story
Thomas Harley – Serious Commentary
Emily Simon – Serious Commentary
Yeileny Lopez – Serious Commentary
Hannah Cordes – Sports Game Coverage
Cavan Wilson – Sports Game Coverage
Emily Simon – Sports Profile
August Field – Sports Action Photography
Ximena Puig – Personality Portrait
Thomas Harley – Personality Portrait
Ximena Puig – Personality Portrait
Laura Rico – Computer-Drawn Illustration
Laura Rico – Computer-Drawn Illustration
Cavaleon Yearbook
Adviser: Ana Zuniga 
Evaluation:  – Gold
On-the-Spot Contests:
1st Place Brianna Curran – Mixed Company
Spring Digital Contests:
Best of the Best – Deylis Perez, Liz Ramirez, Adriana Obeso, Brianna Curran – Yearbook Sports Copy
All-Florida:
Arden Avera, Bianca Pasci, Adriana Obeso, Brianna Curran – Yearbook Sports Copy
Elliza Beltran – Academics/Organization Photography
Elliza Beltran – Sports Action Photography
Excellent:
Elliza Beltran – Feature Photography
Elliza Beltran – Nature Photo
Elliza Beltran – Sports Action Photography
Presley Gonzalez, Maybel Cerrato, Adriana Obeso, Brianna Curran – Yearbook Sports Copy
Honorable Mention:
Elliza Beltran – Feature Photography
Elliza Beltran – Nature Photo
Elliza Beltran – Personality Portrait
Elliza Beltran – Personality Portrait
Elliza Beltran – Sports Action Photography
Elliza Beltran – Sports Reaction Photo
Marina Torras, Karelia Jaramillo, Gaby Rivas, Laura Stieghorst – Yearbook Student Life Copy
Nicole Juarez – Feature Photography
Nicole Juarez – Sports News Photo
Nicole Juarez – Sports Reaction Photo