A Day of Adventures
At 4:15 am on February 7, 2014, 70 students from the Class of 2016 gathered on campus as they prepared for their Sophomore Class Trip. The sophomores rode on two buses for four hours to reach their destination: Islands of Adventure.
Islands of Adventure is one of the most well known amusement parks in the Orlando area. Home to rides like The Incredible Hulk and The Jurassic Park River Adventure, the park was reason for anticipation even weeks before the trip, and once they arrived, students ran from one attraction to the next!
"
I had a great day; I was very nervous to ride the Hulk, but my friends convinced me and we rode first row. I actually loved it and it was my favorite ride of the day! I'm so glad that we shared the experience together,"
— sophomore Gaby Sanchez
Although the weather wasn't necessarily perfect, the day went on without a problem. Usually when visiting large amusement parks, lines have at least a 20 minute wait time. On this day, the sophomores were granted with relatively short lines that lasted about 5-10 minutes giving even more opportunity for adventure.
"My favorite part was being able to spend time with my friends, even the bus ride to and from Orlando was really fun. My favorite ride had to have been the Ripsaw Waterfall because it was about 50 degrees Fahrenheit and we all got soaked! We had to all fit about 12 people into a little dryer and rotate; it was a great time. I honestly think it was worth waking up super early for, and to me, it didn't really matter if it was on a teacher planning day or not, I would've hung out with my friends either way on a free day, so why not go somewhere fun with them?  The lines were actually really short, and we got on all of the rides within about three hours of getting to the park and still had time to do whatever we wanted to do," sophomore Alejandro Arzola said.
One of the favorite rides among the students was Harry Potter's Forbidden Journey, located in the Wizarding World of Harry Potter. In this magical world, the Harry Potter movies seem to come to life and allow you to become a part of it all. From tasting Butter Beer and riding dragons, the sophomores enjoyed every corner of the latest theme park addition.
"I enjoyed the Harry Potter ride a lot, even more than others due to the fact that it was very different from Spider Man which was a simulation as well. Harry Potter gave you a feeling of actually being in the movie. I had never been to Islands before and I definitely plan on going on the next trip. My favorite part of the trip was riding the Jurassic Park ride because I love dinosaurs and the movie as well," sophomore Barbara Jimenez said.
After a day of riding, eating, and laughing, the sophomores reconvened in front of the park with their chaperones. The trip was one that won't cease to be remembered and the Class of 2016 seemed to enjoy it to the fullest.
About the Contributor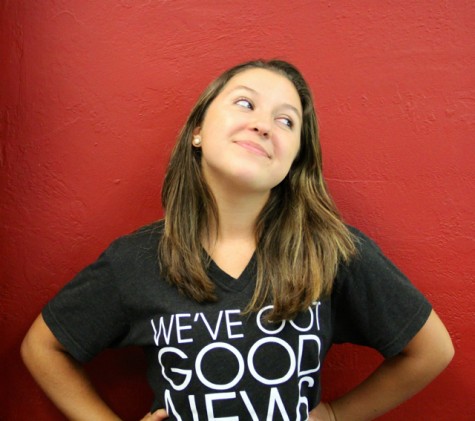 Sabrina Ochoa, Editor-in-Chief
An IB senior at Gables, Sabrina Ochoa (commonly known as "Sab," "Sabi," "Sabu," "Bri," "NaNa" and even "Fab Sab" ) is a proud Cavalier. Despite her minuscule...