Just bead it!
Experiencing the difficulties of wearing a face mask herself, Gables alumnus Karelia Arauz founded a home-based business to help lessen the discomfort and inconvenience encountered by millions
Even after months of quarantine, many people continue to forget their masks when going out to public places. Further, the protective cloths often restrict people's self-expression as the masks cover half of one's face, making it a challenge to create an impression of somebody. Experiencing these difficulties first hand, alumnus Karelia Arauz, part of the graduating class of 2007, caught inspiration and found a solution to this problem. 
By using techniques from her past in beading to create necklace extensions for masks, Arauz was able to open her business, Bead of Sunshine. The necklace is attached to the adjustable strings of the mask, making the coverings very easy to fit on one's face. Since the face mask is attached to the necklace around the neck area, if the mask ever slides off, it will still be in reach and will not get dirty or lost.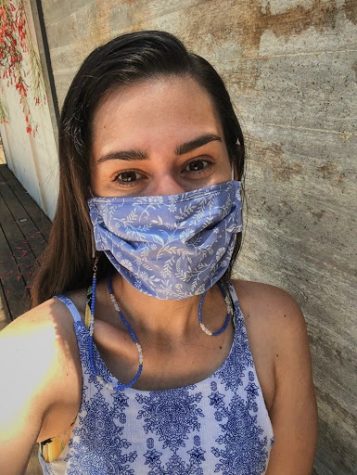 "I would go to Publix and I'd make it to the front door only to realize everyone was looking at me oddly because I didn't have my mask [on]. So, I would have to go back to the car [to retrieve it]," Arauz said. "And in a restaurant, I'd put it in my pocket and [the mask] would fall on the floor, which defeats the whole purpose of being safe."
 During the first days of lockdown, Arauz saw a woman passing by wearing a beaded mask necklace and immediately loved the design, only to find out they were $85. Thus, she took matters into her own hands and created one for herself, which quickly drew the attention of her friends and family.  Arauz soon realized that her plot to save money would do much more than that; it would mark the birth of her new business and financial opportunities. 
"My mom wanted one so I made one for her, then all of her older lady friends started liking it. After that, her younger friends and then my school teacher friends [began asking about the products]," Arauz said. "It just kind of happened like that; I did it for myself and then everyone kept asking me and I haven't stopped since."
Each necklace Arauz makes is $35 and completely one-of-a-kind. She has a variety of beads with both colorful and neutral tones. Her two most popular necklace patterns are cheetah for older clients, and watermelon sugar for the younger crowd, which was inspired by the Harry Styles song "Watermelon Sugar."
Arauz hopes to make people feel comfortable and confident when wearing their masks in public. 
"My main goal is to help people feel pretty at a time where you just feel unknown at this point. I'll run into people who I went to highschool with and not even recognize them. There aren't any facial expressions anymore. So, it's kind of nice to have a necklace that represents you essentially," Arauz said. 
Although she does not make the masks themselves, she makes sure the mask complements the necklace. She has 16 masks ready every morning and continues to make more throughout the day to compensate for the ones she sells. The necklace can be very essential in times where an individual needs to remove their mask for a short period of time without having to put it away somewhere. Instead, once removed, the mask remains around a person's neck to prevent misplacing or forgetting it.  
Arauz makes necklaces for all ages and is prototyping lanyards for kids as the school year begins. The lanyards will attach to the masks with velcro sidestrips. Each lanyard will be around $10 to $12. 
"If you have a five, six or seven year-old playing in the playground and they get stuck to something, the lanyard will break off because of the velcro. Therefore, we're not going to be dealing with strangulation," Arauz said.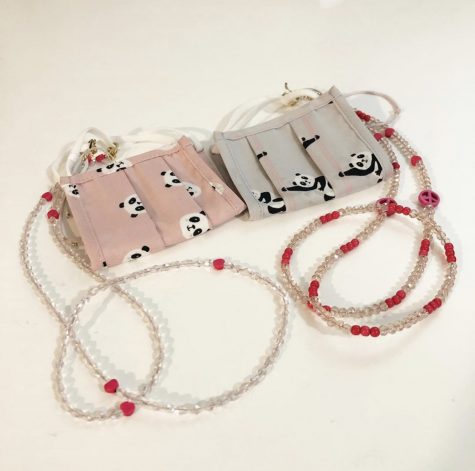 Although Arauz is located in Miami, she does offer free shipping for local deliveries and free shipping to other regions only on orders of $100 or more, which is equivalent to three necklaces. To place an order, customers must send her a direct message on her Instagram, @beadofsunshine, and receive a custom order within two days. 
There is a 20% off for current students and teachers who show a valid school ID.  Arauz hopes to continue her business and provide people with these original necklaces until the pandemic eventually dials down. In the meantime she will continue to work toward her goal on helping clients build confidence by spreading joy among them, doing what she loves the most. 
Leave a Comment
Your donation will support the student journalists of Coral Gables Senior High School. Your contribution will help us cover our annual website hosting costs.
About the Contributor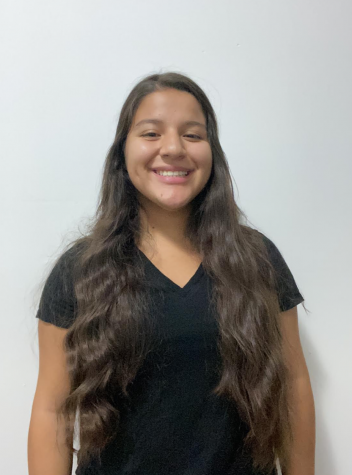 DeeAnne Montero, highlights newsmagazine contributor
DeeAnne Montero is a rising junior in the International Baccalaureate program. She grew up in a very artistic family where everybody either took a part...