Combining Both Modeling While Teaching Business: Mrs. Brown
Known for her high Certiport Certification passing rate in Entrepreneurship at Coral Gables Senior High, Ms. Brown's talents are not limited to the classroom. If one happens to be passing by 16915 S. Dixie Highway, they might encounter her hidden gift: modeling. Located above the highway on the side of the road, her face is highlighted brightly on a billboard.
Although she modeled back in high school, Ms. Brown spent much of her adolescence in Michigan, living a reserved lifestyle. This changed when she joined the cheerleading squad for the University of Michigan basketball team and competed in the Miss Michigan pageant for a season. Transforming her demeanor, Ms. Brown developed self-confidence as she had to perform in front of a large audience.
"I've been insecure and have not always had a great amount of confidence, but if you are trying into these things, just make sure that you communicate effectively and show eye contact because these are things that are determined right away during the audition if you want the spot," Ms. Brown said.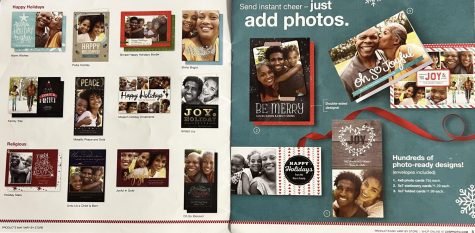 Following Ms. Brown's graduation from U Mich, with a master's degree of Arts in Communication and a bachelor's degree of Science in Business Administration, her involvement in modeling waned. Working as a full-time teacher, traveling between states and later having a child all restricted the number of auditions she could apply for. Her passion for being in the spotlight, however, led to her support towards her daughter's acting appearances at the age of five. 
Back in 2009, Ms. Brown's daughter was acting in a Kentucky Fried Chicken television commercial. The producers ended up needing more people in the scene and hired Ms. Brown, on the spot, as an extra. Ms. Brown was given the opportunity to once again reprise her latent performative skills. After the shoot, her daughter's talent agent contacted Mrs. Brown and within a couple of weeks, she began receiving calls to perform as a middle-aged woman for billboards and newspapers.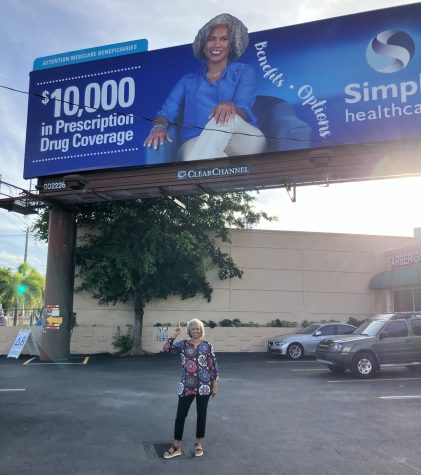 Ms. Brown has been on the cover of several magazines, including Consumer Value Store's 2015 Christmas catalog and Miami Jackson Memorial Hospital's cancer awareness paper as a nurse. 
"When I auditioned and received the position to be in one of CVS's Christmas catalogs in 2015, I was told that I was going everywhere online and my students after winter break were telling me that they saw me in Michigan and in New York," Ms. Brown said.
This past summer, she auditioned for her newest photoshoot; a segment on Simply Healthcare's marketing campaign where she was featured on buses, billboards, benches and fliers all across Miami-Dade County starting on October 2022.
"I felt that on-set it was very professional and they treated us very nice. At one point it was raining during the shoot and they had four people around me with umbrellas trying to protect the clothes from getting wet for the shoot. Once the shoot began I had to pose in different positions and stand for 30 minutes and change wardrobes," Ms. Brown said.
While she does not presently have any future modeling gigs or auditions scheduled, Ms. Brown hopes to build her part-time modeling career into something bigger after retiring from her alma mater.
View Comments(1)
Your donation will support the student journalists of Coral Gables Senior High School. Your contribution will help us cover our annual website hosting costs.
About the Contributors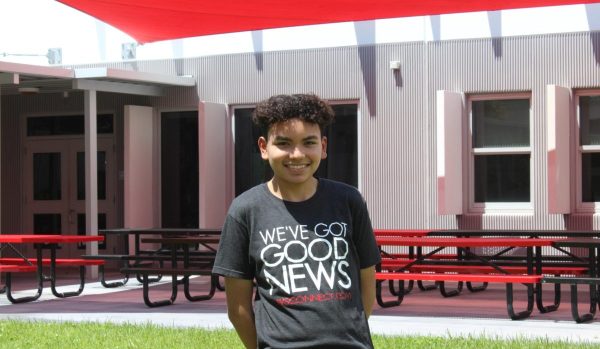 Aaron Rojas, CavsConnect Faces of Gables Editor
Entering his third year in CavsConnect, Aaron Rojas is the newest editor on the team for Faces of Gables. As he enters the ranks of rising juniors in the...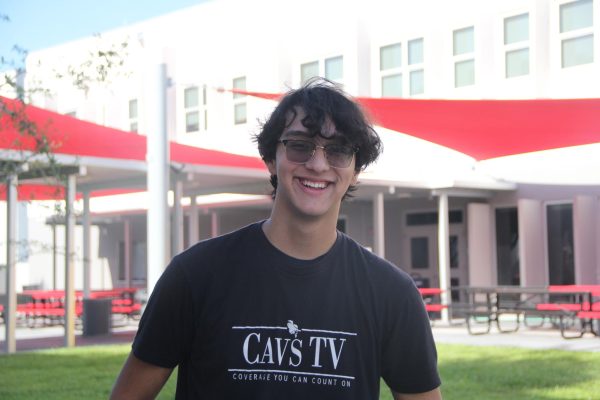 Matthew Castano, CavsTV Staff
Meet Matthew Castano, a talented junior in high school who serves on the boards of FEA, FBLA, and AOF. With a passion for videography and photography,...