Back on the Field: JV Coaches and Gables Alumni Ethan Kaddour-Moore and David Kuper
Stepping back onto the field, Class of 2022 alumni Ethan Kaddour-Moore and David Anthony Kuper "DAK" return as coaches, guiding the Coral Gables Senior High junior varsity football team to victory this season. The Cavaliers hold a current win-to-loss record of 4-2, with two former players leading the way on and off campus. 
Ethan Kaddour-Moore 
Recognized as a Cavalier athlete, alumni Kaddour-Moore considered himself a football fanatic long before his teenage years. Longing to return to Gables' community feel, he officially made strides toward coaching after graduation. 
Discovering a niche between the sidelines, Kaddour-Moore recalls the "unforgettable experience" of playing high school sports. At first, he established himself as a competitor by making the JV team his freshman year. He credits coach Alton Strachan for his uplifting spirit and for promoting him to varsity in his junior year.
"
The one coach who impacted me the most in life was coach Strachan. Growing up, as a young man, I definitely owe a lot to him. Because he's taught me so many lessons, he told me just got to keep pushing, no matter what,
— alumni Ethan Kaddour-Moore
Kaddour-Moore currently plays a vital role in Cavalier football, helping lead practices everyday from 2:30 p.m. to 5:00 p.m. From pep-talks to blowing the whistle, Kaddour-Moore's responsibilities involve underclassmen and making sure the JV team is ready for competition. 
On a normal schedule, players are expected to warm-up and perform cardiovascular exercises before separating into offensive and defensive units. Kaddour-Moore treats each JV player with high expectations regardless of their ability. 
"[Ethan] motivates you to push yourself to your limits… he gets the team and makes you a unit, that if one of us makes a mistake, the whole team has to pay for it, and it creates a strong team bond," freshman Joshua Markowitz said. 
For Kaddour-Moore, coaching is an opportunity to share personal anecdotes relating to football and encouraging growth with team members. Implementing advice from previous seasons, he plans to re-live his days in uniform while seeking perfection, this time as a coach. 
David Anthony Kuper "DAK"
Former Cavalier and defensive lineman Kuper understands the role of athletics at his alma mater. Hyped for the remainder of this season, Kuper aims to unlock Gables' full potential while advocating for success inside the classroom.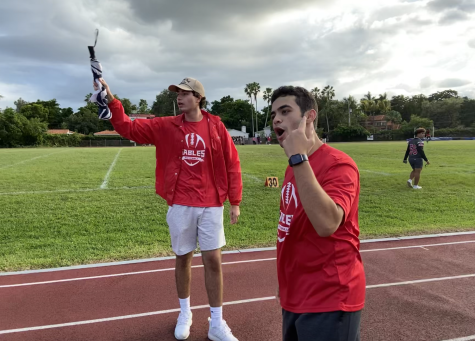 Kuper came in close quarters with football by attending Miami Dolphins games at a young age. Although not realizing it at the time, his long line of experience motivated him to pursue a coaching job at Gables. 
"I wanted to help see Gables football return to what it was because it used to be such a big tradition and big deal. That withered away throughout the years, and now, we have the opportunity to come back and help," alumni David Kuper said.
At the University of Miami, Kuper learned valuable lessons such as teamwork and time management from head coach Frank Welsh. He emphasizes "balance" and often encourages his JV players to succeed whether they are on or off the field.
Kuper's signature phrase as a co-coach revolves around "a goldfish" which enumerates the value of smart choices in life. 
"Be a goldfish: you have a four second memory. Don't forget it, because you need to learn from it and build on it, but don't dwell on it and make it ruin your entire season," alumni David Kuper said. 
---
Driven by school pride, Kaddour-Moore and Kuper represent Gables alumni that continue to inspire student-athletes on the rise. By forming meaningful connections with the JV team, both alums remain at the helm of Cavalier Football. 
Leave a Comment
Your donation will support the student journalists of Coral Gables Senior High School. Your contribution will help us cover our annual website hosting costs.
About the Contributors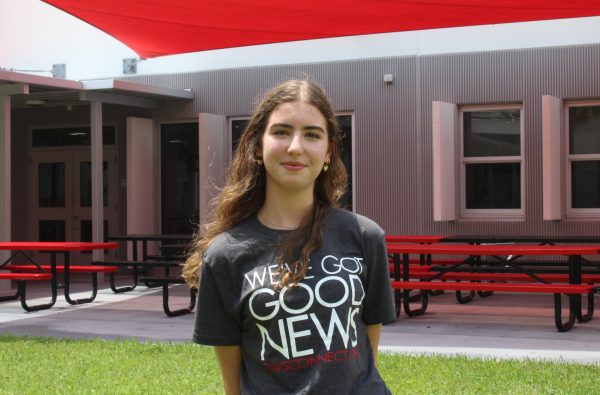 Marina Astorga, CavsConnect News Editor
As a sophomore in the International Baccalaureate program, Marina Astorga is excited to come back to CavsConnect for her second year in the publication....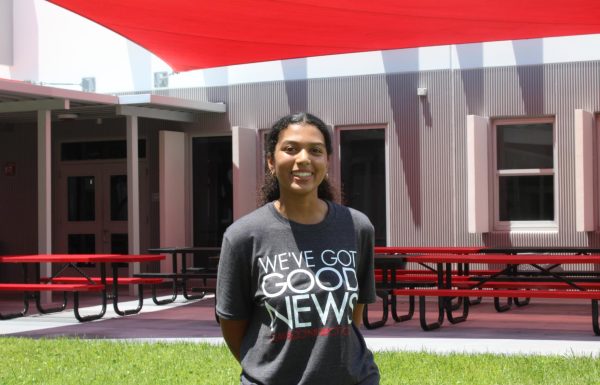 Beatrice Stampino-Strain, CavsConnect Staff Writer
Beatrice Stampino-Strain is a sophomore in the International Baccalaureate program at Coral Gables Senior High. Following an insightful year in CavsTV,...