Cavalier Athletics Looks Back on Summer Training
While some students' extracurricular lives are limited to the nine-month school year, the athletes at Coral Gables Senior High practice all-year round. Prior to opening the school year on Aug. 17, the fall season is already underway as teams employ new techniques and strategies to improve their skills.
Although many teams resume play during their actual season, a few dedicated Cavaliers prioritize summer training to further perfect their game. It is only a matter of time before new Cavalier athletes take the stage to represent Gables' athletic prowess, whether it be on the court, field or running track.
Football:
Heading towards the one-hundred yard field, Cavalier Football is attempting to revive the hype of last season. Capping their 2021 fall campaign with a one to six record, this bunch of athletes huddled up for the start of summer conditioning on June 20.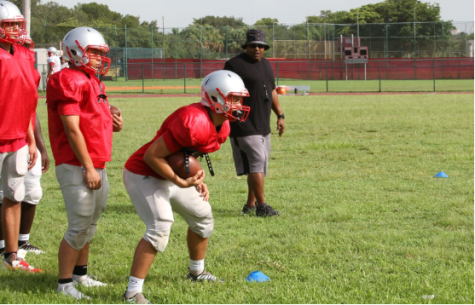 Led by second-year head coach Frank Welsh, the Gables' varsity football crew remains on their toes with their offseason work. Putting training at the top of their list, the coaches have emphasized the importance of hosting summer drills while simultaneously building trusting relationships and good communication in the team. 
"I think this year will be different because of the type of mentality we have going forward. It all comes down as a team being more mature and wanting to win and play for each other," senior Lucas Paez said. 
Training five days a week, the football team hosts daily workouts that correlate to specific position groups and increases their ability to function as a unit. From tackling drills to interpreting plays at the line of scrimmage, these workouts are often attributed to speed, coordination, strength and agility.  
Showing off their talent, the football team prepares for their first matchup against the Coral Reef Barracudas on Aug. 18.  
Cross Country:
Recalling last year's triumph, the Cavalier cross country team is racing for lasting success this upcoming fall season. Although the boys cross country team fell short during regional competition, the girls team earned a spot at the 2021 state championships held in Tallahassee. A much-improved team, both coaches and athletes are looking to overcome the injuries and lack of experience that presented themselves last time around.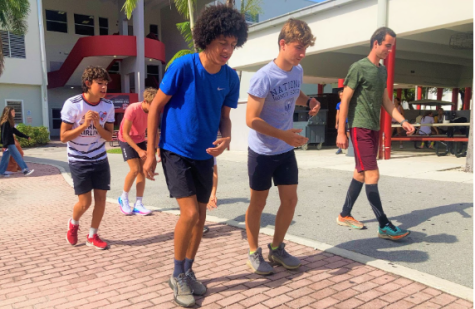 Guided by head coach Scott Nelson, runners trained individually in order to stay ready for the first official team practice on Aug. 1. Using suggested workouts, the Cavaliers focused on increasing their mileage and incorporating cross-fit training into their daily routine. 
In addition to building mileage, the cross-country team hosted occasional speed workouts on the track and "core" sessions aimed to enhance their upper body strength. 
"I hope the increased experience and ability to perform at a high level will drive us to the states. We are holding each other accountable and have big expectations for each other this year," head coach Scott Nelson said. 
Boys Basketball: 
Making preparations for the fast-approaching school year, Gables' varsity boys basketball team intends to light up the scoreboard this winter. Coming off a heads-up season with rookie head coach Armand Shoon at the helm, the team is relying on meaningful production from their veteran players. 
Remembering their unfortunate loss to Cyprus Bay in the regional quarterfinals, the boys basketball team engaged in summer conditioning early June.
"I'm confident in the offseason work because I have seen the results in my own basketball career. What you put in is what you get out. Everyone will see the work that these athletes have been putting in come November," varsity basketball coach Armand Shoon said.  
As far as summer training goes, the basketball team has been introduced to 5 a.m. workouts that improve skills a player may not only face in a game, but throughout the season. Varying on the day, players work on specific skills such as ball-handling, shot volume and finishing at the rim. The team also frequently hits the weight room to get their bodies stronger for the four-quarter games .
"Summer conditioning will benefit us in our performance, especially in the fourth quarter. We're extremely hyped, so you can expect a high-paced team that can push the tempo late in games. It is going to be an exciting season overall," sophomore Bruno Sanchez said.
On the cusp of a memorable sports season, teams have taken steps forward with their pre-season work. Destined for success, Cavalier athletics is primed to make the best of the 2022-2023 season.
Leave a Comment
Your donation will support the student journalists of Coral Gables Senior High School. Your contribution will help us cover our annual website hosting costs.
About the Contributor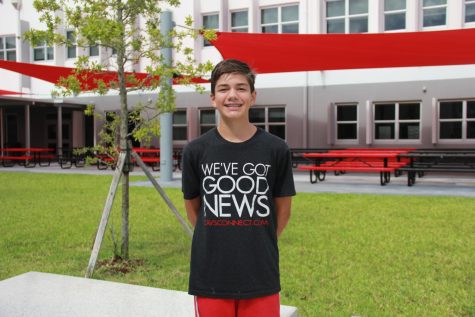 Andres Rodriguez, CavsConnect Sports Editor
Transitioning into his second year at Gables, Andres Rodriguez is a returning staff member and guess what: this year's CavsConnect sports editor. A student...