Cavaliers Athletics is Ready to Face the Fall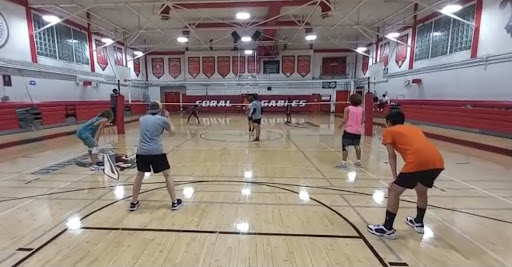 After a COVID-19-interrupted season, the Cavalier athletic teams are eager to finally get back on the field and show off their skills. Preparation for this school year began with training over the summer, during which athletes practiced several times a week for months on end.
Coral Gables Senior High sports teams worked on conditioning and skill development to enhance their performance for the coming season. Even so, each sport faced its own unique journey to prepare for the challenges awaiting them at the start of the year.
The Cavaliers Football Team
The start of this year's football season was a unique one as players prepared for it at the same time as the new head coach, Frank Welsh, made his debut. Welsh has a long history with the game of football, first as a player at South Miami High, Palmetto Senior High and Miami High school as a coach.
"
We motivate each other to be better every single day, not just for the sake of the team, but to make it far into the year holding our heads up high,"
— sophomore Sean Reyes
Throughout the offseason, the team wanted to make cooperation a key emphasis that would play a key role moving forward in practices and games. They highlighted this new mindset and put it to use during grueling drills.
By the end of the summer, the team could already see improvement as players were setting personal records on the practice fields. The Cavaliers have their first game of the season this Friday, Aug. 27 against Monsignor Edward Pace High School.
Boys Volleyball Team
The boys' volleyball team had an early start to their summer training as well. The team has not trained this early for a season in years – their decision to do so came as a result of them bringing in a new head coach, Josh D'alemberte, who was eager to shape the roster to winning form.
"We really had the great opportunity to train way earlier than expected in the summer so we are very thankful of the new coaches at Gables to give us a chance to compete at our fullest potential," senior Diego Moran said.
To many on the team, this was a drastic change in the team's culture compared to last season's training environment, with practices now happening every summer morning from 7:30 to 9:30 a.m. Last year's training did not begin during the summer, was less frequent and was also less rigorous than this year's practices. The shift was welcomed by Captain Diego Moran, who aimed to set an example for his peers.
Cross Country Team
Cross country's summer training consisted of outdoor long-distance runs, which ranged between two to four miles. The team also hosted indoor workouts every other meeting to maintain a balance between running and strength. Indoor workouts focused on building lower body strength while also maintaining a healthy routine of upper body workouts.
Even with all the competition that comes with an individual sport, teamwork is a recurring theme for the cross country team. With their record of hard work and perseverance, the Cavaliers look to come out strong in their first meet.
"What I'm looking most forward to is the teamwork and attitude I'm excited to promote on behalf of Gables," senior Gregoire Winston said.