This Year's Girls Flag Football Season Comes to End: Senior Night 2022
As the girls flag football season comes to an end, the team's annual Senior Night has arrived. This year the girls played against the Coral Reef Barracudas April 8 on the Coral Gables Senior High field. Peers, friends and family went to support the seniors for their final touchdowns.
The night was a celebration for the team's seniors Natalia Orozco, Martina Ruiz, Asiah Wilson, Lea Bergeot and Vicky Mavaraz. The underclassmen on the team decorated posters with the seniors' names and numbers along with pictures that highlighted their best moments with the team. In addition to the signs, friends and family showed up with flowers and gifts for the girls as a congratulation for all of their hard work.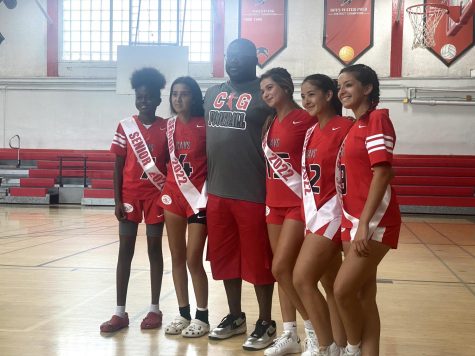 "I was happy to make the signs for the girls, I really wanted them to know they are loved on this team and make something personal for each of them, it was meant to be something they could show off and know they should be more than proud of themselves," sophomore Mia Aguilar said.
Over the course of the season, the girls have been dedicating their time to bettering their abilities and working towards their first victory. Practicing five days a week from 2:30-4:30 p.m, they sharpened their skills by learning different plays for offense and defense and occasionally running scrimmage games.
"Being in the team has made me communicate more, I met a lot of new people and it's made me more open and nice," senior Asiah Wilson said.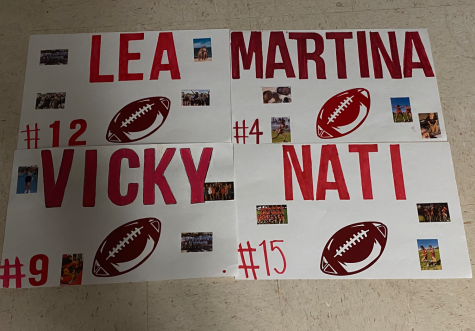 The coaches who lead the girls to success are Coach Strachan and Coach Willy. Coach Strachan has been coaching girls flag football since 2014. This being his first year as head coach, Strachan has created an encouraging and family-like team. Making sure each girl stays motivated and strives to be the best version of themselves, the girls do not have only a team, but a family.
"The coaches want us to be better. That's all they want. They want us to be better and not just as players but better in general, like better human beings. They want us to succeed in life. They tell us every day the way we win things is by believing in yourself first because no one is going to believe in you more than yourself, and I think that's really impacted all of us," sophomore Mia Aguilar said.
The season is not over yet, these Lady Cavs have one game left against the Ferguson Falcons on April 14 before the season comes to a close. The girls have grown physically, mentally and as a team overall.