Nuevo consejo estudiantil 2022: listos para hacer impacto
Hang on for a minute...we're trying to find some more stories you might like.
---
Al pasar por los pasillos de Gables probablemente notaste la propaganda que los freshmen colgaron para elegir a los nuevos miembros del consejo estudiantil de su clase. Después de tanta promoción, las  votaciones se llevaron a cabo el pasado 8 de octubre, mismas que fueron supervisadas por representantes de Activities. Los resultados salieron ese mismo día más tarde revelando a los nuevos representantes de la clase 2022.
Lauren Gregorio, quien espera poder poner en práctica sus habilidades de liderazgo y hablar en público en práctica, ganó la presidencia. Emma Hardie muy emocionada de poder ayudar a la escuela de cualquier manera posible y conocer gente nueva, obtuvo la mayoría de votos para el título de vicepresidencia. El puesto de secretaría lo ganó David Kuper, quien esta dispuesto a ser la voz de los estudiantes de su clase asegurándose de ser alguien en el que sus compañeros puedan contar. Finalmente como tesoreras, Natalie Verdesoto y Natalie Pallas.
"Estoy muy emocionada de poder ayudar a mis compañeros haciendo cambios si es posible. Siempre he querido involucrarme más en la escuela y la comunidad, opino que el ser vicepresidente es una increíble forma para lograrlo, " nos compartío la vicepresidente y freshman, Emma Hardie.
Los candidatos ganadores más adelante trabajarán con la maestra encargada de la clase, Ms. Ayleen Monzon para la organización de diferentes actividades, viajes de generación y nuevas ideas para hacer de la experiencia de high school de todos los miembros de esta clase más memorable.
"
Con la ayuda de los demás miembros del consejo, esperamos tanto planear viajes de clase muy bien organizados, así como actividades interesantes que ayuden a relacionar unos estudiantes con otros e involucrarse cada vez más en la comunidad. Eso es lo que espero lograr como presidente."
— Freshman Lauren Gregorio
Sin duda alguna, es difícil ser freshmen por diferentes situaciones como el tener que adaptarse a un ambiente nuevo y desconocido, sin embargo también puede convertirse en un año lleno de emoción si se encuentra en las manos correctas del consejo estudiantil. Este año podemos decir firmemente, que será uno bueno para la clase, pues el consejo estudiantil electo viene con grandes aspiraciones, buenas ideas y lo más importante, ganas de hacer impacto positivo en la comunidad.

About the Contributor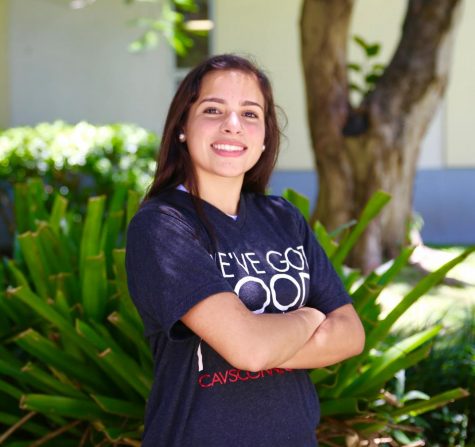 Jimena Romero, Staff Writer
Jimena Romero is a dedicated junior enrolled in the International Baccalaureate career-related program. She became a member of CavsConnect towards the...