Una manera divertida de conocer a los integrantes del Coro
Cada año hay estudiantes en la escuela que llegan nuevos o que simplemente que nunca hemos visto o conocido. Por esta razón, cada vez que inician las clases, los participantes del coro de la escuela hacen diferentes actividades para aprenderse los nombres y para conocer mejor a los miembros que forman parte del grupo durante el curso escolar . En la clase de coro es esencial conocerse porque todos tienen que cantar al frente de los nuevos integrantes del grupo, así que las actividades que realizan para conocerse hacen que sea mas cómodo cantar en publico y permiten a cada uno de los miembros sentirse más a gusto.
''A mí me encanta hacer este tipo de actividades ya que me hace sentir más segura cuando canto. También se siente increíble estar rodeada de personas que conozco y que terminan siendo mis amigos'', dijo la estudiante de duodécimo grado, Aylin Ramos.
En la clase de Women's Ensemble con la ayuda de la nueva maestra de coro, Dr. Moore, realizaron esta actividad en uno de los patios de la escuela. Para realizar este juego, lo primero que hicieron fue sentarse en sillas una al lado de la otra viradas de lado. Después se acostaron todas hacia atrás, poniendo el peso en la otra persona. Poco a poco la maestra con la ayuda de la capitana fueron sacando al azar cada silla. Al sacar todas las sillas todas se quedaron con los pies en el piso y con la cabeza encima de la otra persona sosteniéndose una con otra.
Este juego tuvo un gran significado la cual aparte de conocerse era dejar saber que hay que confiar en las personas alrededor de ti, y confiar que no te van a dejar caer.
"Yo soy miembro del coro y esta experiencia ha sido de gran ayuda para mi, estoy súper contenta por este curso escolar", dijo la estudiante de duodecimo grado, Amanda Gonzalez.
About the Writer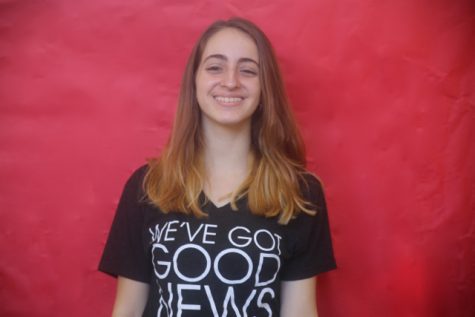 Veronica De Varona, Staff Writer
Veronica De Varona is a junior in the Visual and Performing Arts Academy at Coral Gables Senior High. Veronica was born in Havana, Cuba from a big and...