El presidente Barack Obama visita la Habana, Cuba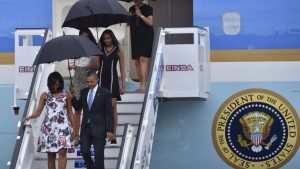 Alrededor de las 4:30 p.m. aterrizo el avión presidencial estadounidense en el Aeropuerto Internacional de la Habana,  José Martí. El presidente Barack Obama viajo a la Habana, Cuba acompañado de su esposa y sus hijas con el propósito de reunirse con el presidente de la isla y arreglar las relaciones entre ambos países que han estado congeladas por más de cincuenta años.
Minutos después del aterrizaje, en la cuenta de twitter del presidente Obama apareció un mensaje dirigido al pueblo cubano que contenía una frase popular que usan los ciudadanos de la isla para saludar: "¿Que Bola?", que significa ¿Cómo está? Y añadió: "Acabo de aterrizar y espero reunirme y escuchar a la gente cubana directamente".
Luego de un par de horas, el presidente y su familia pasearon por la Habana vieja para conocer más de la historia de la ciudad. Ellos también visitaron la catedral donde el Arzobispo, Jaime Ortega los recibió amablemente y expresó su gratitud por la visita de la familia Obama.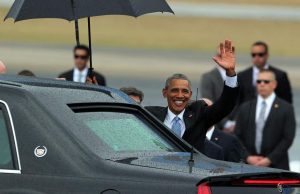 El presidente de los Estados Unidos tiene previsto reunirse con el presidente de Cuba, Raúl Castro el próximo lunes. El gobierno cubano aseguro que en dicha reunión estarán discutiendo todos los temas durante esta visita histórica del presidente estadounidense. Entre esos temas están los derechos humanos y la normalizacion de las relaciones entre ambos países.
Obama también tiene previsto brindar un discurso, pasear por la Habana Vieja, e incluso estar presente en un partido de béisbol entre los Tampa Bay Rays y el equipo nacional cubano.
"La visita de Barack Obama a Cuba creo que era necesaria para poder acelerar los cambios y el acercamiento entre Estados Unidos y  Cuba" dijo el estudiante de duodécimo grado, Diego Ferreiro.
Sin duda alguna, la visita de Barack Obama a Cuba ha servido como esperanza para ambos países y muchas personas esperan una pacífica reconciliación después de muchas décadas.
About the Contributor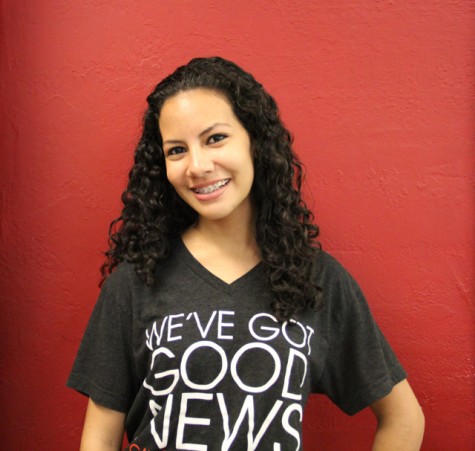 Jeniffer Infante, Spanish Editor
Jeniffer Infante is a senior in the Business, Management, and Information Technology Academy at Coral Gables Senior High School. She is a very perseverant,...