Primer "Pep Rally" del año: Gables contra Killian
En el gimnasio de nuestra escuela se reunieron la mayoría de los estudiantes para estar  presentes y disfrutar el primer "pep rally" del año. A pesar de que este evento se realizo en el gimnasio debido a que el auditorio esta bajo reconstrucción, muchos estudiantes asistieron para apoyar al equipo de fútbol americano y como siempre, demostraron un espíritu estudiantil muy alegre que no podía pasar desapercibido.
Nuestro "CavMan", Alejandro Arzola, acompañado por Mitscher Gajardo, Abraham Ahumada, e Isabella Izquierdo se encargaron de animar el ambiente y de hacer reír a todos los asistentes. Además, no podía faltar la espectacular la presentación de la banda, las porristas, las Gablettes, y la de la guardia de color ya que cada grupo destaca el talento tan maravilloso que representa a nuestra escuela. El "pep rally" incluyo una presentación que nadie esperaba y que dejo a los espectadores boquiabiertos: el baile realizado por algunos maestros de nuestra escuela. Gracias al esfuerzo y dedicación de ellos, todas las personas disfrutaron el grandioso evento.
"Estuvimos ensayando constantemente las presentaciones que realizamos para este 'pep rally' durante varias semanas para dar lo mejor de nosotros este día," dijo Maria Castillo, estudiante de duodécimo grado quien es miembro del grupo de porristas.
Los jugadores del equipo de fútbol americano también se hicieron presentes. El entrenador del equipo, Roger Pollard, presento a cada uno de los jugadores quienes expresaron que se sienten muy motivados esta temporada y aprovecharon esta oportunidad para agradecer a los estudiantes por el apoyo incondicional que reciben.
"Este ha sido el mejor 'pep rally' al que he asistido porque el ambiente estuvo bien animado y lo disfrute muchísimo, me sentí tan orgulloso de ser parte de esta escuela," dijo el estudiante de décimo grado, Gabriel Hernandez.
El evento concluyo con nuestra Alma Mater y luego de un par de horas los futbolistas de Gables se enfrentaron contra Killian en el estadio de Southridge. Gables obtuvo la victoria, el resultado fue 14- 7.
About the Contributor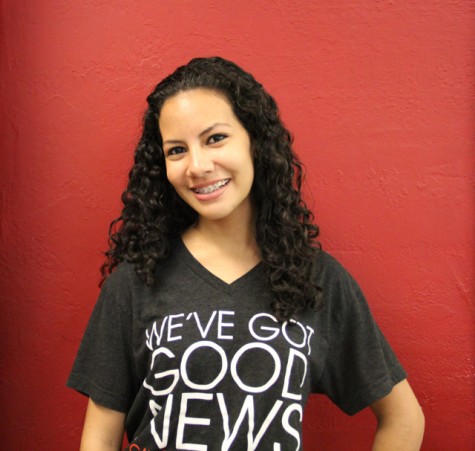 Jeniffer Infante, Spanish Editor
Jeniffer Infante is a senior in the Business, Management, and Information Technology Academy at Coral Gables Senior High School. She is a very perseverant,...