Exploring Into the Life of Science: Gables' New IB Teacher, Mrs. Cole
From teaching Advanced Placement Biology at Alonzo and Tracy Mourning Senior High in North Miami to deciding to teach International Baccalaureate Biology, Mrs. Cole continues to pursue the science field at Coral Gables Senior High. Entering her new room, 2107, Mrs. Cole meets her new students and next-door science colleagues for the school year following Ms. Singleton's departure last year.
Raised in Spain, Mrs. Cole studied at the University of Barcelona where she majored in biochemistry. In one of her college presentations about cellular respiration, Mrs. Cole's professor was impressed by her effective oration skills and encouraged her to become a teacher.
After graduating from UB and receiving her bachelor's degree in 1983, Mrs. Cole's mindset was initially geared towards pursuing a career at a hospital in San Pablo, Barcelona. During her time at the hospital, Mrs. Cole researched the effects of high and low cholesterol on a multitude of individuals. When Mrs. Cole got married and had children, she believed that the education area would be better suited for her family. While she liked working and researching at the hospital, she preferred to have free time on weekends to take care of her children.
"
Everything is so different from my private school, for instance, knowing how to make copies or how to work with two monitor screens when I previously worked with one. Learning how to use this model of the Promethean board is also very new to me and obviously getting to know how the school operates. It's really fun getting to know and learn how Gables works. "
— Mrs. Cole
After an unexpected change in her husband's career, Mrs. Cole decided to travel the world to locales such as Mexico, Puerto Rico, Argentina and the United States where she eventually moved to and started teaching.
While driving from Coral Gables to ATM for nine years, Mrs. Cole eventually noticed Gables' noticeable reputation as an "A" school and was interested in what the IB program has to offer, as both of her daughters were inducted into the curriculum at Coral Reef Senior High and later in Gulliver Preparatory.
"I knew the school very well and noticed it had a good reputation in academics, so I applied and I was very happy when Mr. Ullivarri gave me the position to become an IB teacher in biology," Mrs. Cole said.
With the aid of fellow IB biology teacher, Mr. Molina, Mrs. Cole's primary plan for her first time teaching IB biology is to prepare her students for the final IB Biology exam. Mrs. Cole is expanding into different resources for the exam such as utilizing the Curriculum Planning and Learning Management System, which provides many resources such as articles from the New York Times and videos from Khan Academy. This way, Mrs. Cole can motivate and show her students how the skills taught in biology can also be applied to the environment such as climate change or how stem cells are useful in everyday life.
"My advice for students is to keep trying, stay calm and be patient when learning new things and to never give up", Mrs. Cole said.
Transitioning from a private to a public high school and getting accustomed to Gables is one of Mrs. Cole's paramount challenges this year. As she finds herself gradually adjusting to the people around her, the routine and the technology, Ms. Cole becomes a greater part of the Cavalier family everyday.
Leave a Comment
Your donation will support the student journalists of Coral Gables Senior High School. Your contribution will help us cover our annual website hosting costs.
About the Contributor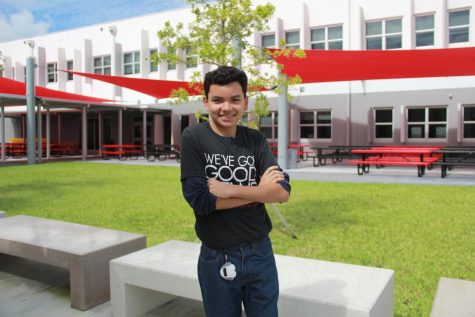 Aaron Rojas, CavsConnect Staff Writer
Aaron J. Rojas-Avila is a sophomore in the International Baccalaureate program at Coral Gables Senior High. Aaron is enthusiastic to be returning for a...