Gables Records N Comics: A Blast to the Past
Peering into a hidden stairwell on Miracle Mile, a colorful chalkboard sign covered with stickers and upward-facing arrows invites pedestrians in. A subtle bell rings as the establishment doors open to a world of whimsical wonder—walls and tables lined with posters, pins, baseball cards, comics, CDs and records of every color and design imaginable. A time capsule of the 60s and 70s hidden amidst the heart of Coral Gables, the patrons of Gables Records N Comics are welcomed by Gables' very own French teacher Mrs. Johanna Garcia and her husband, Waldo Rodriguez.
Rodriguez's array of items did not begin just when they opened the shop—he actually started by collecting baseball cards with his young children. As they grew out of the "phase" of collecting, Rodriguez was left with an immense library of dozens and dozens of cards. Instead of just throwing them away, Rodriguez decided to expand and purchase even more items. He began traveling to seek out new cards, buying and trading to further the library. He expanded his purchases into the realm of music, and began gathering pressings of vintage vinyls from across the world.
This passion was not lost on his wife, Madame Garcia; after they met, she too began a collection of her own. However, Garcia's affinity leaned towards comic books and anime collectibles. She began her collection casually, looking into small shops and picking up items here and there on their travels. These items accumulated, and eventually she had a collection of her own, encompassing items such as "Naruto" comics, "He-man" figurines and more recently Korean Pop memorabilia.
After the two married, they found a homey apartment right on Miracle Mile with three conjoined storefronts in its front portion. As the owners of these establishments cleared out one by one, Garcia and Rodriguez seized the opportunity and opened up their store in all three. They compiled their supplies of miscellaneous valuables into an amalgam of unique goods. As it currently stands, each mini storefront houses a different aspect of their store: comic books, CDs and posters, and Vinyl pressings, respectively.
"I found [Gables Records N Comics] about 5 years ago with my grandmother on our weekly Wednesday adventures. She loves collecting, and we were both able to find things we were interested in," junior David Kuper said.
To replenish Gables Records N Comics with fresh finds, the couple traveled across the country to different hubs of art and music, composing a vast array of popular items from the different regions. They also began searching for items on their international travels, learning the ins and outs of the European markets for vinyls and items that were difficult to find in the states. Although the pandemic has changed the way they get their stock, as international travel is restricted, they have been able to form better connections with local suppliers and embark on road trips around Florida and the surrounding states for items.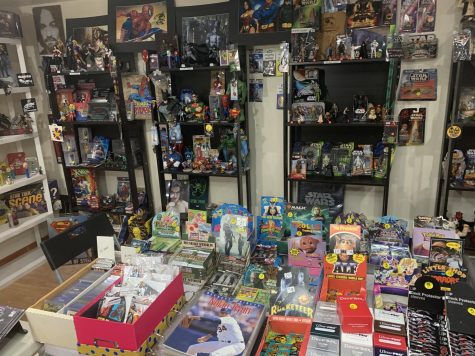 When asked about the effects of the Coronavirus pandemic on their business, Rodriguez replied with a surprising answer: "during COVID, our business has nearly tripled". It appears that with the shift from parties and social gatherings, he said, people have come to a more profound appreciation of these novel items and relics of the music industry.
"I feel that more people are getting back into [comic books] because they provide an opportunity to indulge in something more vicariously than watching a movie because you get to play it out in your head, especially with much more alone time than before. Being at home has definitely popularized this, and now people are going through their old collectibles and returning to these hobbies," junior Paulina Texier said.
Although it was disheartening to see some of their oldest neighbors go out of business around them, they were appreciative of the unexpected bounty the pandemic provided. They have since been able to restock more often, coming across more unique items than they had previously gotten their hands on. Rodriguez revealed that he recently stocked a first pressing of "Sergeant Pepper's Lonely Hearts Club Band" by the Beatles, which is an infamously coveted find. They hope to continue to diversify their selection as the year continues.
Now that Rodriguez has retired and Garcia is taking a leave of absence due to the pandemic, they can dedicate much more time to the store and have since expanded their hours of business. They also have had the opportunity to expand their social media presence, drawing the attention of more locals and newer demographics that would not have previously seen the business.
In this difficult time, it is more important than ever to support local small businesses. This hidden gem run by a beloved Gables teacher and her husband is a perfect afternoon stop for comic book lovers, anime fanatics and old souls alike.
Leave a Comment
Your donation will support the student journalists of Coral Gables Senior High School. Your contribution will help us cover our annual website hosting costs.
About the Writer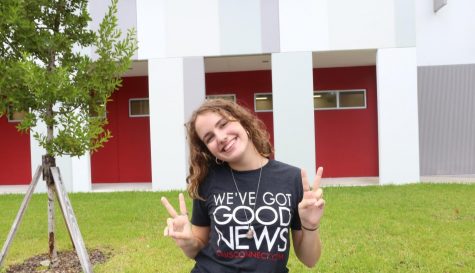 Maia Berthier, Co-Editor-In-Chief
Maïa Berthier is a senior in the International Baccalaureate program at Coral Gables Senior High. This is her fourth year in CavsConnect and second year...