Catch a Cav with Character: Principled
Every month, Coral Gables Senior High School, awards four or more Cavaliers for their exemplary actions inside and out of the classroom. In November, five outstanding Cavaliers were nominated by their teachers for their principled attributes. These students actively continue to walk the halls with a powerful sense of fairness, integrity, honesty, justice, and respect for all individuals, groups and communities.
Grade 9: Tao Wang 
Wang has been described by his teachers and peers as a very dedicated and hardworking student. One of his most principled attributes is always helping those around him without thinking twice about it. Since a young age, Wang has strived to be respectful and caring, especially when it comes to those involved in his life and school environment. He is a great problem-solver who contains a powerful sense of fairness and understanding of others around him. Wang demonstrates his integrity by involving himself in clubs and activities that allow him to positively contribute to his school community.
Grade 10: Yessy Chavez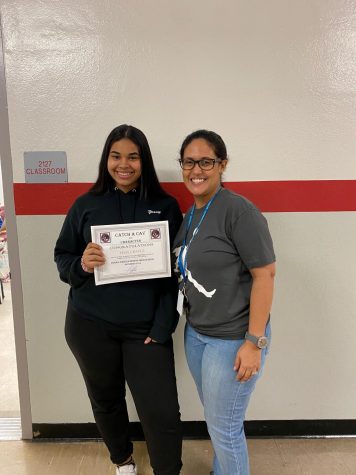 When Chavez first sat in Ms. Vazquezbello's class, her presence became instantly known as she made it a priority to actively participate in class discussions and helped her classmates whenever and wherever she could. This led Chavez to become one of Ms. Vazquezbello's most principled students. Her honest determination to do classwork, tests, and difficult group assignments  molded Chavez into a fair and respectable leader in the classroom. Another reason for Chavez's nomination was her positive and contributing attitude both inside the classroom and out; always standing up for what is right, Chavez has made it evidently clear she values the truth, honesty, and hard work above anything else.
"I am thankful for the opportunity Ms. Vazquezbello gave me by nominating me to win this award. I feel like it will help me in my near future, and it showed the hard work and determination I place on my everyday life," sophomore Yessy Chavez said.
Grade 10: David Kuper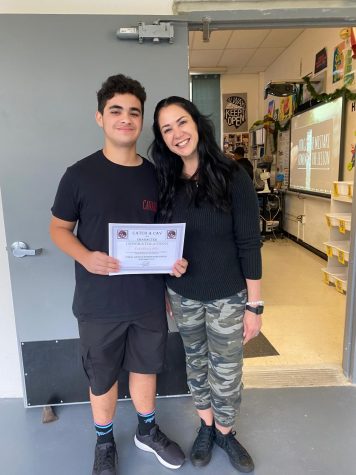 Kuper is a star-student whose efforts to better his own, and his classmates', high school experience does not go unnoticed. He feels as if he has a duty to his classmates to make the four years they have together the best time possible. It was because of this reason that Kuper decided to run and maintain active in Student Government. This is his second year on his class board and he is excited to continue serving his class members with fun, tasty treat days and other class events that bring them all together to embody the true Cavalier spirit.
By being part of the Junior Varsity Football team, Kuper has learned discipline, compassion, empathy, and how hard work will always go a long way, win or lose. One of Kuper's most principled values is the respect and integrity he carries on a daily basis towards all, especially his parents, teachers, and coaches. With honesty leading his actions, he firmly believes high school is what each student makes of it. Kuper hopes he can continue to positively guide those younger than him to follow their passions as boldly and unapologetically as he once did.
"It was amazing and I felt extremely honored by being selected by Dr. Barrocas out of all the kids that she could have selected. This award has shown me the result of my good deeds and actions," sophomore David Kuper said.
Grade 11:  Joseph Serrano 
Serrano was more than pleasantly surprised when he won one of the nominations and was extremely grateful for the recognition. Serrano is described as a loyal student who greatly contributes to his community in more ways than one. On-campus, he devoted a lot of his time to the Wrestling team. When he is not in school, Serrano enjoys helping in the painting of community houses, organizing and providing food for the local homeless population, participating in the cleaning of our beaches, and lastly, but surely just as important, he plants trees for the bettering of the environment and he does his best to help those around him.
"I am a wrestler and I have always been a loyal and honest guy. I tell the truth. Nothing but the truth, I never lie and I love helping people no matter the price. I never thought about winning the award. I was just being myself and that is what matters. I am grateful to Mr. Costa for giving me this award and I hope to continue helping people throughout the rest of my life," junior Joseph Serrano said.
Grade 12: Mindy Miranda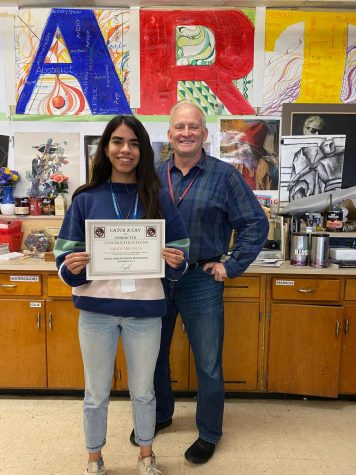 Miranda is what one would describe as a multi-talented Cavalier. Her strong admiration and passion for art brought her to face-to-face with the adventurous world of International Baccalaureate Art, and she has continued to work on and improve her skills throughout the course of the program. Her growth and development led Miranda to commit to an art internship during her junior year. In addition to being a skillful and recognized artist, she is also a board member on two of our biggest and most recognized honor societies, International Baccalaureate Honor Society and National Honor Society.
As it is her final year in high school, Miranda feels accomplished and proud to win this nomination. She strongly believes in always putting her best efforts into everything she does.
"I am extremely thankful for the opportunity to be given this award. I hope to continue putting my all in everything I do. I am a hard worker who likes making sure that I understand everything and I always put my best into everything I do, "senior Mindy Miranda said.
---
These Cavaliers are determined to make their four years at Coral Gables Senior high some of the best years of their life. By putting heart and dedication to their classes, extracurricular activities, sports, and hobbies, these five exemplary students are demonstrating to the generation next wave of Cavaliers what it truly means to be principled.