FBLA Brings Home the Awards
On Feb. 3, Coral Gables High showed up at the Future Business Leaders of America (FBLA) districts awards ceremony and showed that they came to win. Winning awards in 27 categories, Coral Gables was recognized as one of the top schools at the ceremony.  In fact, Coral Gables will be represented by almost 29 teams at the state level in March. This was the first year that Coral Gables competed in District 25 (previously in District 26), which contains Mater Academy, a charter school with specific classes meant to give their students the best chance at winning FBLA competitions.
"This year, our FBLA chapter did very well at districts with approximately 43 competitors qualifying for states. It was our first year in a new district, going up against one of Florida's most competitive schools, and we still managed to stand out!" senior Maria Ordonez said.
Of the 27 categories in which Cavaliers won, there were four categories where students almost fully occupied the top spots: Business Communication, Computer Problem Solving, Publication Design and Word Processing. In addition these categories, there was a category completely filled by Cavaliers: Management Information Systems.
Before the awards, however, the Kendall Campus of Miami Dade College (MDC) put on a show for those who had already tested and presented. Some of the games included a trivia quiz, catwalk/race/dance off, and a singing competition where contestants had to sing parts of songs containing a given word.  Near the end, someone sang "Never Gonna Give You Up" by Rick Astley in front of a crowd of almost one thousand people, effectively rocking the house. Just before the awards were passed out, the MDC administrators in attendance attempted to start a dance party in vain, until someone had the thought to put on the Cupid Shuffle, at which point the floor was no longer visible, crowded as it was with five hundred people.
"This was my first year attending an FBLA ceremony and it was astonishing to see how many schools we compete against. Seeing Gables come in first made me feel proud to be a Cavalier. My teammates and I can't wait for states in Orlando," sophomore Dylan Carol said.
The Cavaliers from Coral Gables High performed very well and won multiple times in the same category. These Cavaliers did outstandingly well, and we wish them luck at States. Having said that, we look forward to hearing back on the hopefully outstanding results that will come rolling in in a month as Cavaliers advance to Nationals in California.
Leave a Comment
About the Contributor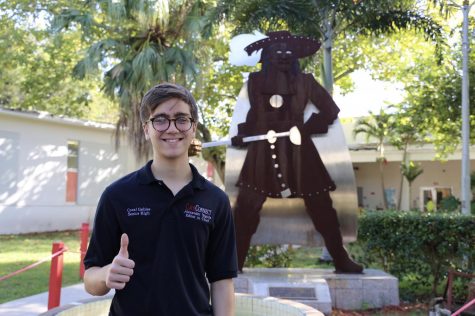 Alexander Yagoda, Co-Editor-in-Chief
Alexander Yagoda is a senior in the International Baccalaureate (IB) program at Coral Gables Senior High School and is excited to start his fourth year...