A Run in the Sun!
Junior Violeta Alonso began running in her sophomore year when she became part of the Cavalier Cross Country team. Since joining the team, she has not only figured out a way to manage her time more wisely, but the sport has instilled qualities of perseverance and commitment within her. Inspired by the motivational environment that cross-country creates, she decided to join the team in order to further pursue her passion for running.
Since then, Alonso's training has consisted of long runs, up to nearly four miles, around Coral Gables Senior High or, on the occasion, to the University of Miami. Throughout her constant training, Alonso has been working effortlessly to hopefully reach her goal of running in the state championships this year alongside her teammates. Due to her long and rigorous days of practice after school, she was able to compete at Regionals which would give them the opportunity to compete at States. Unfortunately, they placed in seventh overall as a team and did not move on to compete at States. Despite not moving on, Alonso still keeps her head up high for next year's season in hopes of working even harder to both better herself as an athlete and to reach her goal of making States.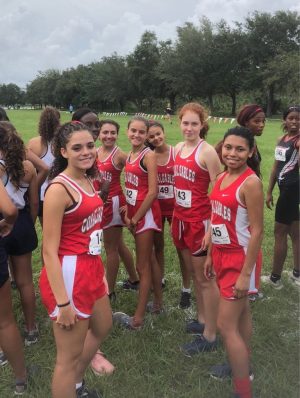 Were you on the cross country team previously and, if you were, for how long?
Yes, I joined the team my sophomore year so this was my second year.
What inspired you to start running?
What inspired me to start running was that I wanted to be part of a team and I liked the sport.
What does your training consist of?
My training consists of different runs, ranging from shorter runs on the track to longer ones outside of school, including running to UM sometimes. Also, once a week, we do leg and cardio workouts.
What's your favorite thing about being part of the cross country team?
My favorite thing about being part of the cross country team is to be able to form such a strong bond with my teammates and coaches and to encourage each other to do better.
How do you balance your athletics with academics?
It is not complicated to manage athletics with academics as long as you learn to manage your time; I usually have time to do both.
What were your goals for the season?
My goal for the season was to improve my time as much as possible and to get to States with my team, but we only got to the regional championship.
What is one of the best moments that you have experienced with your team?
One of the best moments I have experienced with my team was the day of Regionals. Our goal that day was to beat Coral Park in order to place among the top six and get to States. We all pushed ourselves really hard during the race, and most of us even did our best time that day. However, in the awards ceremony, we found out that we placed seventh as a team, meaning that we did not make it to states. Immediately, we all started crying of frustration because we wanted to go to States. Although I would've been really happy to reach this goal, I was proud of what we had all accomplished. I will always remember this moment as the most motivational one we had as a team.
What did you achieve this season?
This season I improved my time like I would've never imagined. I started the season with a time of almost 25 minutes, and in my last race, I ran a 21:25 minutes. This was all because of my coaches' motivational words and my teammates' support.