Arianna Gonzalez: Kicking Down Gender Barriers in Sports
For generations, the struggle for gender equality has proved to be an eternal battle facing women around the world. Recently, this struggle has manifested itself in nearly all aspects of society as trailblazing individuals have pioneered feminist movements, allowing for an expansive spread of awareness to embolden the injustices towards women that have prevailed throughout history.
While gender inequality exists within society in many ways, it is indisputably evident in the world of sports. Not only fighting for equal rights in the routine events of daily life, women are also vocalizing this struggle on the playing field. It is undeniable that women have been restricted from their athletic dreams and passions through the oppression of traditional gender-oriented social norms.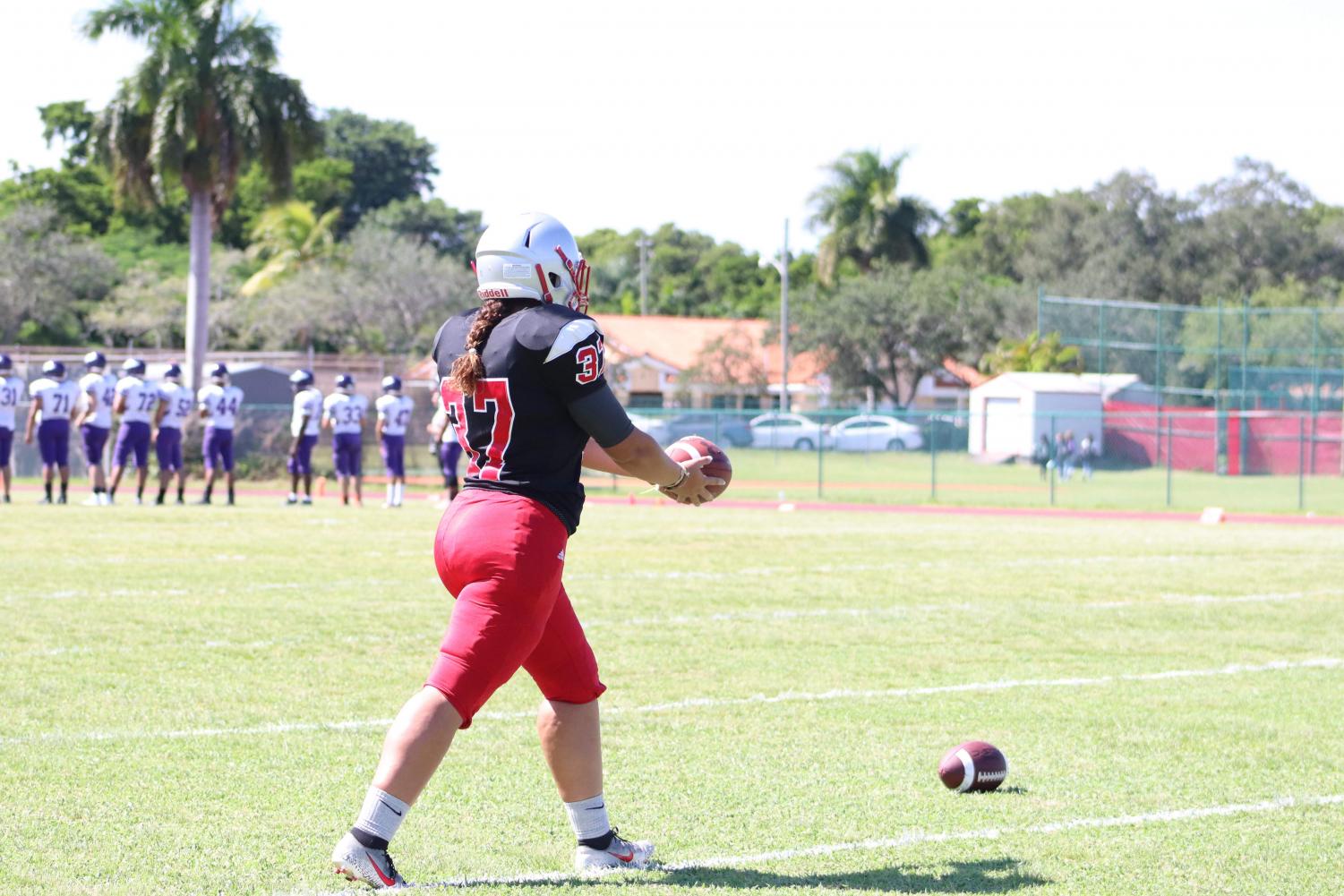 However, as much as adversity can serve to be an obstacle for many, it doubles as fuel for others; this sentiment in particular has been embodied by junior Arianna Gonzalez, the first ever Lady Cavalier to compete alongside boys on the Cavalier Football team.
Discovering her passion for football during her freshman year while serving as an athletic trainer, Gonzalez has recently assumed the role of a kicker on the Cavalier Football team and has worked extremely hard to not only maintain her spot on the team, but also excel in her position.
There are many obstacles that are bound to impede the way of a typical student-athlete. However, being the starting kicker on the boys' junior varsity football squad as a female only magnifies the pressure and adversity against her. Not to mention, maintaining decent grades can prove to be very difficult for all athletes, especially when after-school athletic activities minimize the time that could be allotted towards studying. Fortunately for Gonzalez, her passion for football and her commitment to success are unrivaled, propelling her academically and athletically.
"I have always done what I love. I have never been one to listen to other people's judgment. I love the sport of football, so I decided to pursue it," junior Arianna Gonzalez said.
Determined not to let any obstacles get in her way, Gonzalez approached the junior varsity football's head coach in hopes of being able to join the team.
Despite initially being hesitant due to the potential injuries she could suffer during competitive play, Coach Aaron Miller ultimately granted her the opportunity to play on the football team. While his concern is a reasonable one, Gonzalez has nothing to fear.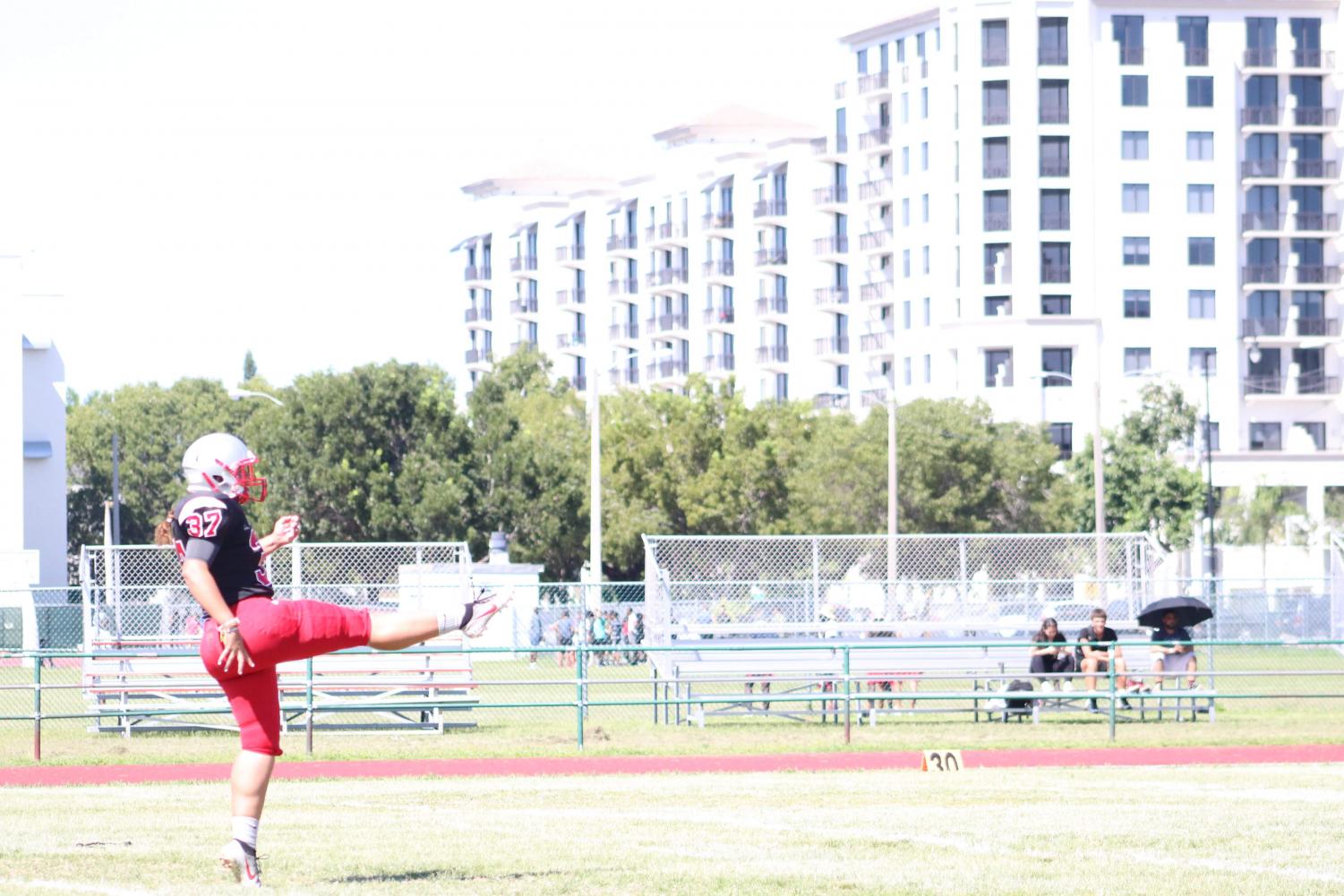 "There are people that walk down the street and get injured, so I might as well get hurt doing something that I love. As a teammate on the football team, I am truly looking forward to being able to support and help my other teammates in any way I can. I am not in a position where I can give others the same help that I was given, but I would like to be able to do that one day," junior Arianna Gonzalez said.
For many, the inclusion of a single female on a boys' sports team proved to be quite alarming, and this can serve as a detriment to team morale, unity, and chemistry. While Gonzalez did face some disapproval by her teammates at first, she never fails to acknowledge the bond that has emerged among her and her teammates through every practice and game.
Since making the team, Gonzalez has not only been able to solidify her role as the starting kicker on the junior varsity Cavalier Football team, but she has also matured into one of their most devoted players, showing up to practice every day and exerting maximum effort.
Her unparalleled devotion to improve resonates throughout the entirety of the football team's roster and has caught the eyes of the coaching staff. Coach Miller in particular has found that coaching his female star has been a rewarding experience, seeing as she is arguably one of the most dedicated players on the team.
"She is a strong individual and she wanted to do something that everyone said she could not, and I think that as more people told her that, the more she wanted to do it," junior varsity head coach Aaron Miller said.
While Arianna Gonzalez has made a profound step forward in her athletic career, she is the first to note that her quest in continuing to break down gender barriers in sports is far from over. With ample time remaining in her high school journey, she has set her sights on a far more impressive goal; Gonzalez hopes to eventually be the starting kicker for the varsity Cavalier Football team. Regardless, her ground-breaking influence as a Cavalier has created a ripple effect throughout Coral Gables High School, and her teammates can rest assured that she will continue to work hard and push her limits throughout the remainder of the fall football season.