A mom in the stands shouts "[senior] Audrey [Noval], you are going to pop that volleyball". The following serve, Noval smacks an unreachable ball to the Hialeah Gardens defenders, resulting in a point. Overpowering the Gladiators with exceptional serves and constant teamwork, the girls volleyball team cruised through their opening game of the season.
Reconvening their talents over the summer, the Lady Cavaliers hosted tryouts in late July. The girls who passed the first cut were invited back for the first official team practice. Prior to school, they practiced from 9 a.m. to 12 p.m., establishing their unity on the court. Currently, they meet for three hour practices after school.
"Most girls on varsity have either played or continue to play [with] clubs like Miami Hype, 305 and more… Club experience, in my opinion, helps with coming up with game strategies and learning how to read opponents," senior Andrea Mase said.
On Aug. 22, sporting gray jerseys and red bottoms, the Lady Cavaliers varsity team earned their first point with a rowdy fanbase behind them, with the first play of the game commencing at 5:00 p.m sharp.
Exchanging strong serves, the Gladiators caused some trouble for the Gables backline. The serve placement from the Gladiators forced head coach Monica de la Vega to substitute players often. After a critical timeout, Noval led the comeback from down 16 to 14 with her decision making. She assisted to a spike from sophomore Isabella Cruz. The ensuing play, sophomore Bianca Benson hit an ace.
With a few misfires by the Gladiators, the Lady Cavaliers scored four consecutive points. The first set concluded with a tally of 25 to 19 in favor of the Cavaliers.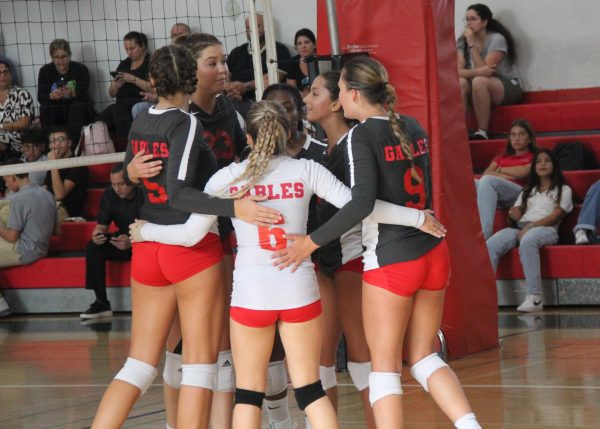 "All the girls were very excited because it was our first game. We played amazing I'm very proud of everyone and how they played. We really worked for it and with every game we give our 100%. I really think  [that] I saw that everyone individually played great. I love my team and I'm excited to see where we exceed," senior Audrey Noval said.
Gables' momentum intensified with every point beginning in the second set. From the bench, the Lady Cavaliers  shouted "Lets Go Gables" and "Double Trouble" to intimidate Hialeah Gardens. Showing off their sophomore chemistry, Benson and Cruz served with precision and blocked hard-hit volleyballs from the Gladiators.
"I feel like our team clicked during the second set since we were pretty warm and excited to continue playing. Our consistency definitely improved which helped us score more points and ultimately giving us a decent lead," junior Andrea Winkeljohn said.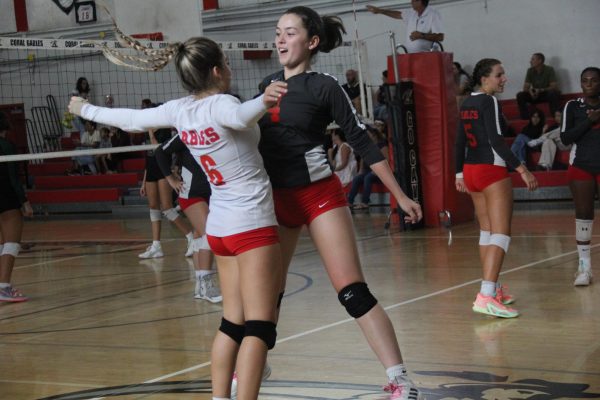 The descending sun lighted up the gymnasium for the third set. Feeling confident enough to finish the job, the Lady Cavaliers resumed the game with a focused demeanor. Limiting their opponents to just 11 points, Gables handily won the third set after a game sealing serve from Benson.
"For my first game, it was really cool seeing how much fun it was to have a home game. I was a little nervous, but after we started playing, I realized the [varsity] team was going to back me up. I really like the experience of having the gym cheer for you," freshman Natasha Macau said.
Ultimately, the Cavaliers defeated Hialeah Gardens three sets to none. Exciting their supporters and coaches, this squad is traveling to Mater Lakes Academy for a road matchup on Aug. 24.
"The message [to my girls] was that when you're having fun that's when you're winning even if the score doesn't show it, although it usually does. So to just keep having fun on the court," Head Coach De La Vega said.