A dedicated group of Coral Gables Senior High runners race against time and the oppressive sun whilst the impending start of the Cross-Country season rounds the corner. Since Aug. 2, returning athletes and new-timers have trained for the 2023 season under the likes of coaches Scott Nelson and Michel Fotso.
However, the unrelenting summer heat poses a developing problem for athletes in South Florida. In July of 2023, temperatures spiked up to 110 degrees Fahrenheit. Subsequently, an excessive heat warning has been issued to schools in Miami-Dade County, Broward and Palm Beach. Addressing its guidelines in the hopes of keeping athletes safe, the Florida High School Athletic Association has modified outdoor practices and games for when temperatures become excessive.
"Normally practices during the beginning of the year are designed with conditioning in mind. This year, it has been more difficult. We do have to monitor the heat and try not to go longer than 20 minutes. Hopefully, we can put in more work as the temperature drops," head coach Nelson said.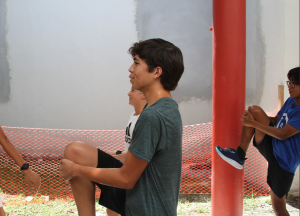 In shadows and shade, Gables' athletes persists in their perpetual training. Monday through Friday, practice commences at 2:45 p.m. and lasts one to two hours. Additionally, on Saturday's, Coach Fotso requires practices at 6:30 a.m. to avoid the overwhelming midday heat and concurrently build discipline in his dedicated runners.
"Our coaches push us really hard, but that is just because they want us to be better, and they know how much potential we have. They know we can do more, so they make us do more. I'm grateful for that," sophomore Lauren Puig said.
"Saturday runs", as the team refers to them, are long distance runs consisting of 6 to 12 miles in length, beginning at 6:30 promptly. The athletes meet in a variety of South Florida's running locations, from Key Biscayne to Coco Plum Circle. These runs test endurance and focus little on speed.
Furthermore, the cross country team runs on the track, the most common workout being 400 meter repeats. The boys and girls teams sprint along the first lane, desperately looking to decrease their times with each stride. With a break in between 400s, runners complete ten to 12 laps minimum. 
"400 meter repeats require speed, form and pacing every lap so that you don't get tired. I prefer workouts that are harder, where I am forced to go beyond what I think I can do," sophomore Puig said.
 The Cavalier cross-country team is fixed on conditioning for now, but nevertheless ravenous for the competitions to come. This season, Gables is registered for seven meets prior to districts, regionals and the statewide finals. The 2022 season sets the precedent for this year, as both girls and boys look to qualify for state finals. 
"We have good potential, a good team and most importantly, good mentality. We have been practicing non-stop, I know we can get to states," junior Ruben Sanchez said.
Countdown to First Cross Country Race of the Season
THE CROSS COUNTRY SEASON HAS BEGUN!!!!!