Girls Volleyball Senior Night: Bittersweet Goodbye for Seniors
The bleachers are swarmed with friends and family enjoying the seniors playing their final home volleyball game before districts. Capping an eventful 2022 season, seniors Julie Maldonado and Avery Felix prepared for an emotional night in the Coral Gables Senior High gymnasium.
Athletes since freshman year, both seniors have earned the title of captain under head coach Monica de la Vega. While Maldonado is renowned for her defensive mindset, Felix is known as an outside hitter for Gables' volleyball team. Every corner was left unavailable, as students and supporters came to witness senior night on Oct. 13.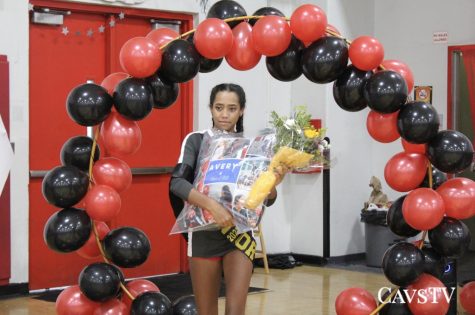 Dressed and ready to play, the junior varsity team stormed the court at 3:30 p.m. to face off Miami Coral Park High School. The match progressed quickly as Gables held a substantial lead throughout the first set. Demonstrating high levels of communication, the JV girls tapped into a 25-17 victory leading into the next event.
 "It was great to see the seniors get their gifts and appreciation from their team because you can see they worked so hard to get where they are. It was also really nice to see the speeches their teammates made and how much the seniors meant to them," junior Ava Volman said.
Senior night was a bittersweet way to reflect on the past four years. I have been apart of 4 completely different teams each year and they have all taught me something important. I have learned the importance of teamwork, the value of hard work, and what it means to be a leader. I am so happy that I was able to be apart of this team for 4 unforgettable years,[/pullquote]
Varsity players emerged from the locker room at 5:00 p.m., hyped for their captains and the surrounding atmosphere. Reaching for difficult balls, Maldonado and Felix contributed early with overwhelming serves at Coral Park.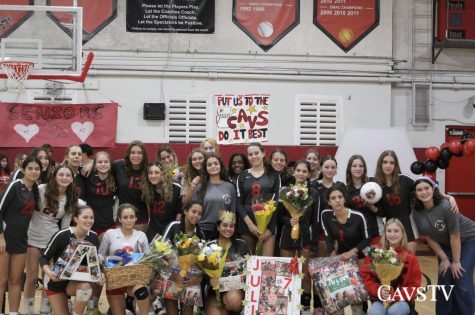 At first, Gables' crowd established its presence with booming cheering and shouting in between points. Grandparents and excited parents showed up for both seniors, as the team cruised to a 3-0 win under the dazzling lights.
Expressing their gratitude towards their senior girls, each was assigned with a gift baskets brought by close teammates and upperclassmen. This included anything from flowers to a collage of memories, which reflected their accomplishments throughout their four years of high school.
Concluding the night, players gave testimony to either Maldonado and Felix through heart-felt speeches across the arena. Although tears were shed, seniors walked towards the photo booths to exchange smiles with Coach de la Vega one last time. The team finally huddled together for a group picture as seniors looked back on such a momentous occasion.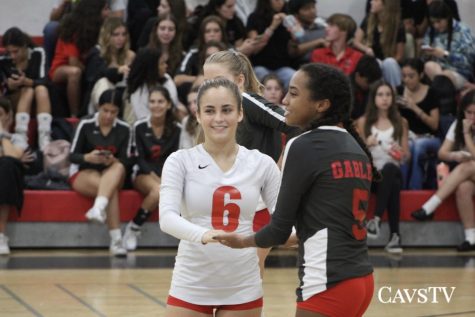 "I was very happy to see Avery at my tryouts freshman year because I finally knew someone and I always aspired to be her knowing she was in varsity since a freshman. I was very impressed. By spending 3 years on varsity together our relationship grew and we got closer very quickly. By this year Avery and I had a great bond and I'm very sad to see her leave," junior Audrey Noval said.
Spilling love for Gables, the 2022 girls volleyball senior night involved much gratitude and appreciation from the seniors. Launching into their respective futures, Maldonado and Felix will continue to demonstrate a prominent example of what it means to be true Cavalier athletes.
Leave a Comment
Your donation will support the student journalists of Coral Gables Senior High School. Your contribution will help us cover our annual website hosting costs.