Watch Out Miami-Dade Soccer, Here Comes Adriana Muñoz
Leaping for penalty kicks when it matters most, freshman Adriana Muñoz is fully comfortable between the goalposts. Playing her first season on the Lady Cavaliers soccer team, Muñoz balances her starting goalkeeper position for Coral Gables Senior High with her soccer club, the Miami Rush Kendall Soccer Coalition.
Muñoz's devotion to soccer runs in the family bloodline since moving from Spain to the United States at seven years old. Before competing herself, Muñoz and her older brother grew up spectating her father, a goalkeeper for minor clubs based in Spain. Fascinated by the world's most popular sport, Muñoz joined the South Miami United Football Club to refine her skills.
"Soccer is everything to me. It is my favorite sport, hobby, etc. Soccer is a part of me and I honestly wouldn't be who I am today without it," freshman Adriana Muñoz said.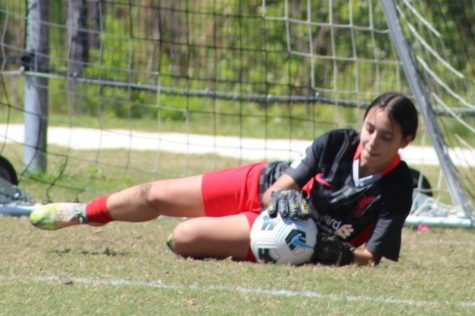 Over time, Muñoz formed abundant friendships with her soccer teammates and coaches at SMUFC. During one winning season, Munoz's team was ranked 12th in the state of Florida. However, additional spending on mandatory private lessons became an issue for her parents. In 2021, Muñoz emblazoned a different uniform for the club FC Prime.
Adjusting to unfamiliar faces, Muñoz's new platform enabled her to compete at higher levels. From Miami to the National Premier League in Colorado, she has stripped goals from national soccer teams. This fall season, Miami Kendall Rush willed Muñoz and several others into competing for Major League Soccer Next, a developmental program within U.S. youth soccer.
"I would say that my parents supported me the most and helped me through all these changes. I was scared to leave South Miami and they helped me through this big change and pushed me to be better, especially my dad. He was also a keeper, and came to every single one of my games, and pushed me every time I felt like quitting. I wouldn't be the soccer player I am today without him," freshman Muñoz said.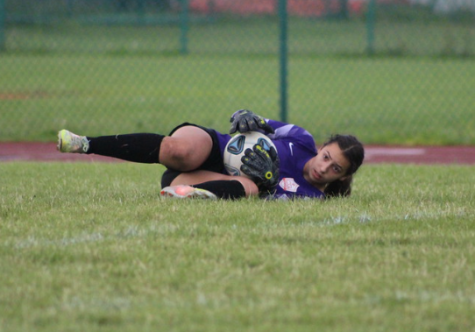 Aside from club soccer, Muñoz inherits a crucial role as a freshman on the varsity Gables sport. Whether positioning themselves in the correct place or timing the block, goalkeepers must react with anticipation.
On Dec. 12, Muñoz suffered an unfortunate concussion that would change the way she played forever. The Cavaliers faced off against Barbara Goleman when their star goalkeeper hit the turf.
"I got injured during a game against Goleman when I went out to stop a ball and ended up hitting my head and blacking out. I was out for three weeks and when I first went back to play, it was hard for me to come out and block the ball like I usually do. I was scared of receiving the same injury again and it caused me to doubt myself and not play as well as I would like to," freshman Muñoz said.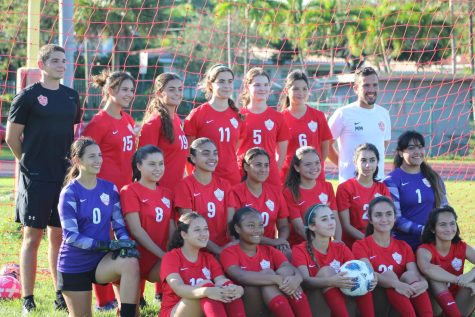 Following months of treatment, Muñoz recovered in time for district finals against the undefeated Doral Academy. Although her first game back resulted in a heartbreaking loss, she plans to succeed in the playoffs multiple times throughout high school.
"Adriana definitely communicates a lot on the field. She tries to tell everyone, especially the center-backs, what to do because it is very important during a game. The team wouldn't be the same without her. She's saved a ton of shots and she's definitely a key factor on the team," freshman Mia Wetzel said.
Situated inside the box, goalkeeping plays a unique role in Muñoz's life. Inheriting a deep soccer background,  she looks up to her father and her brother, Martin Muñoz, a former goalie for Coral Gables Toros FC and SMUFC.
After graduating from high school, Muñoz aspires to play collegiately and ideally land a professional contract. Soccer is a definite answer. wherever the Cavalier ends up in life.
Leave a Comment
Your donation will support the student journalists of Coral Gables Senior High School. Your contribution will help us cover our annual website hosting costs.