Gabriel Carrizo: Upcoming Soccer Superstar
Following the footsteps of several generations before him, freshman Gabriel Carrizo started playing soccer at the age of three, carrying on his family's tradition. Having ambitious goals as an athlete, Carrizo represents a special legacy; one that he has worked to continue on the boys' varsity soccer team. 
Carrizo was first introduced to the field by his father. Before ending his professional career at the age of 20, the freshman's father played for Uruguay's national soccer team. However, following an injury, he moved to Miami and became a coach for kids who aspire to become professional athletes, such as his two sons. 
"My dad, with his coaching, puts a lot of pressure on you so that you can do better. But with Fotso, he sits you down and he tells you what you're doing wrong and tries to help you. But in general, they're both really good coaches," freshman Gabriel Carrizo said. 
"
It's a mix of excitement and nervousness because you don't want to do bad but just the fact that you're playing with your friends just gets you more excited. And scoring goals, thinking of all of that gets you hyped up for the game
— freshman Gabriel Carrizo
Wanting to take his love for the sport to the next level, Carrizo began playing soccer competitively at the age of eight with the South Miami United Football Club. Here, he was coached by his father alongside other athletes in his age group. A year later, Carrizo switched coaches and has since been coached by Coach Fotso, who coaches both for the SMUFC and the Gables boys' soccer team. 
Less than a year ago, both Carrizo and his brother received offers to join Striker Miami Football Club. Although his brother accepted the offer, Carrizo decided that this club was not the right fit for him; returning to SMUFC, Carrizo felt more comfortable and welcomed by the coaches and players he surrounded himself with. 
Since rejoining SMUFC, Carrizo has played games every other weekend year-round, excluding July as competitive playing briefly pauses. While he normally play matches in South Florida, on special occasions, he is invited to play games hundreds of miles away from home. Taking his talent outside his home field, Corizo has played tournaments in Texas and Spain. 
"Spain was a super fun experience. It was sort of like a summer camp, there was no parents or adults involved," freshman Carrizo said.
Early in the summer of 2022, the athlete traveled with his teammates to Spain, where they spent most of their days playing soccer. However, Carrizo's time on the field came to an unexpected halt when he pulled his hamstring during the final match, on the last day of the trip; placing him on the sidelines for four months.
During this time, Carrizo felt restless wanting to return to the field as soon as possible. For the first few months of his recovery, Carrizo attempted to go out on runs to stay active, but he soon put an end to this effort because of the pain in his hamstring. To keep his mind off not being able to play, Carrizo used the free time he now had socializing and focusing on himself. 
"He's a very good teammate and he's also a very good soccer player at the same time, he manages both of them really well," freshman Matteo Plaisir said.
Recovered from his injury, Carrizo currently trains and competes as a central midfielder, a position that requires immense physical ability. His job on the field is to take the ball from the opposing team and successfully pass it to his team's offense, giving them more opportunities to score goals. 
"I would say you have to be good mentally. You can't get affected by your coach screaming at you, or anything like that. Because then if that affects you, then you start playing worse and worse," freshman Carrizo said.
Compared to some of the athletes he trains with, Carrizo has had to play more cautiously in order to prevent injuries when up against a larger opponent due to his smaller stature. However to get past this, the freshman practices strength and speed training in order to be a formidable opponent.
Carrizo's ultimate goal is to become a professional soccer player and compete alongside other professionals, continuing his family legacy. Additionally, he strives to become an even better player than his father was. But first, Carrizo recognizes that his focus for now is high school and working to get noticed by colleges while he is still a Cavalier. 
Leave a Comment
Your donation will support the student journalists of Coral Gables Senior High School. Your contribution will help us cover our annual website hosting costs.
About the Contributors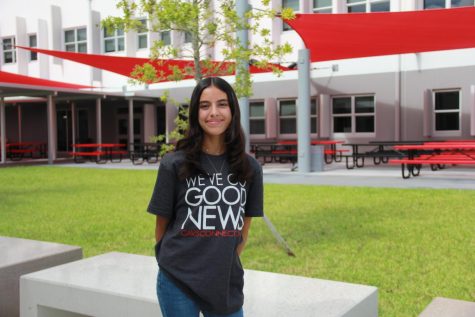 Avril Donner, CavsConnect Staff Writer
Avril Donner, a freshman in the International Baccalaureate program, is pumped to start her first year in CavsConnect as a staff writer. She strives to...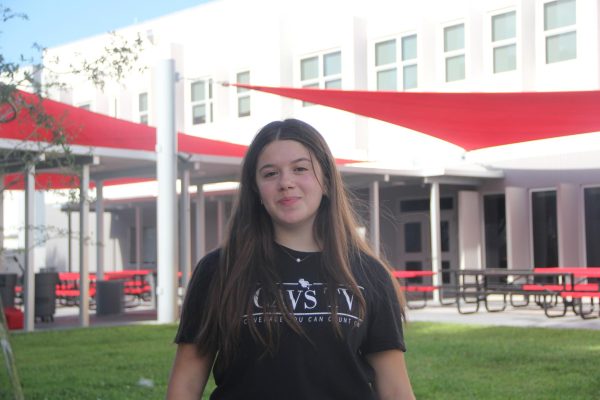 Sophia Sol, CavsTV Managing Editor
Sophia Sol is a freshman in the International Baccalaureate program at Coral Gables Senior High. She is beginning her first year in CavsTV and plans to...