Catalina Quinteros: Conquering the Field
While Coral Gables Senior High is full of dedicated student-athletes participating in a variety of sports, one Cavalier has taken her passion for her sport a step further, achieving a spot on a national team. After years of playing and various rounds of selection against top athletes from around the U.S., junior Catalina Quinteros has earned a spot on the 2022 U.S. Under-16 Women's National Field Hockey team.
Quinteros was first introduced to the sport when she played on her school's team in Argentina as a 4-year-old. Her parents encouraged her to take up the sport as it is commonly played by women in Argentina, and her mother played for a professional team in Buenos Aires for some years before the family moved to Miami, Fla. She quickly took a liking to the sport, continuing to play after moving to the U.S. at the age of 7.
She was particularly drawn to field hockey by the sense of unity she felt with other enthusiasts of the sport. Besides being a source of bonding in her own family, Quinteros feels that field hockey is special in that everyone involved is connected like a larger, global family.
"Everyone gets along. There's the typical 'Oh, I got hit in the face' or 'Oh, I got a bruise here'…and stuff like that. It's funny," junior Catalina Quinteros said.
The whole process for making it on the national team started with the signup for a program called Nexus, which plans practices over weekends with girls from all over the country, ages 11 to 19, to meet coaches and other players. The first round of cutting players happened during these practices, where the selected ones moved on to regionals, usually composed of drills or a mini tournament to further assess their skills. If chosen to continue, the players then entered nationals, a huge tournament that everyone participates in as individuals and not as a team.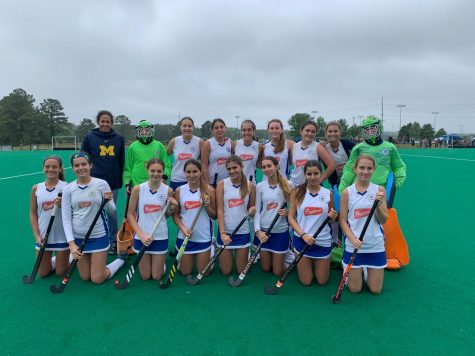 During this journey, the goal was to make it to the Stars and Stripes Elite Game, a selection of the top 50 players out of all participants that play to earn a spot for the national team tryouts. After this final round of tryouts, the chosen girls officially became part of the team of 50 players.
Within the U.S. Women's National Field Hockey team, an international team travels to Canada and throughout the U.S., mainly to various college hockey fields, for practices and games. Quinteros made the U16 travel team this year, in which she has already played four games in Canada, winning each of them by zeroing out the other teams. Despite these trips being full of heavy training, there is room for fun and bonding as the team enjoys pizza parties together, whilst making friendships and keeping in contact when separated.
"At first, I was really shocked I made it into the national team because there's no field hockey here…It was not emotional but it was insane, a crazy experience. I got to meet a bunch of players I always hated and now I get along with them; we do everything together," junior Catalina Quinteros said.
National team practices happen once a month for an extended weekend, usually four to five days in total, with the trip to the chosen location being fully paid for Quinteros. Training time is six hours a day, divided evenly between the morning and afternoon, with breaks to review film or go over team tactics.
When she is not up in the air, Quinteros not only plays field hockey for her home club team, Key Biscayne Field Hockey, but she is also involved in other sports. A true athlete, she has been part of Gables' cross country, soccer and track and field team since her freshman year.  On top of being a multi-sport athlete, she has to balance her time with the academic rigor of the International Baccalaureate program.
"Sometimes, it gets really tough. Usually, I just try to look for gaps where I can squeeze things because there's no way I can control everything; not everything is in my power. I think maybe 70% of my time is dedicated to sports and the rest is divided between school and myself managing everything," junior Catalina Quinteros said.
Despite the challenge of finding time for everything, her time playing field hockey has taught her not to stress. She has learned to take her time and that every second counts.
"There's this one special quote they told me…'difficult is hard, but impossible is a little bit more difficult.' At first I was like, what does that mean? They told me it's gonna take time but you're going to realize, and I've realized it now," junior Catalina Quinteros said.
Not only have her travels as part of the national team allowed her to visit various college campuses across the U.S., but her athletic prowess has also garnered her much attention from several top schools. Unlike most students, her college process began in her freshman year, when she started contacting colleges, expressing her interest and requesting that they watch her games.  However, she knew she would not get a reply back as the schools are not allowed to reach out until the end of an athlete's sophomore year.
The fateful day came on June 15, 2022. The first email came at 12:03 a.m., and Quinteros spent the rest of the day answering emails and phone calls from schools. Since then, she has been working on narrowing down her list of top schools and is currently in the process of taking official visits. Out of the five official visits she is allowed, Quinteros has already done two and has two more scheduled. Her top schools currently are the University of Virginia, Michigan State University, the University of Michigan, Duke University and Drexel University. She expects to be decided by the end of the month.
As for her future with the sport, she looks forward to continuing to improve as she plans on trying out for the U19 national team. She hopes to play professionally for a European team once she graduates from college and dreams of making it to the Olympics some day.
Leave a Comment
Your donation will support the student journalists of Coral Gables Senior High School. Your contribution will help us cover our annual website hosting costs.
About the Contributors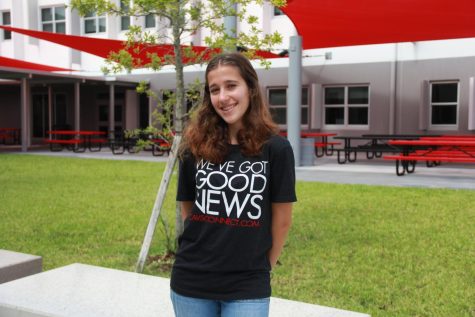 Laura Ridoux, CavsConnect Copy Editor
Laura Ridoux is a junior in the International Baccalaureate program. This is her second year in CavsConnect and returning as copy editor, she hopes to...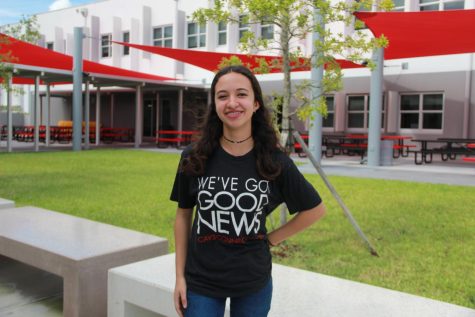 Isabel Donner, CavsConnect Copy Editor
Isabel Donner is a senior in the International Baccalaureate program, closing off her last year at Coral Gables Senior High as a copy editor for CavsConnect....