Catalina Quinteros & Alexandre Chevalier: Cross Country Superstars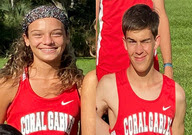 Catalina Quinteros
As a freshman at a new school, it might be hard to discover where you belong and find success, but not for Catalina Quinteros. With just a few months into the school year, Quinteros has already secured herself a spot on the Varsity Cross Country team and went on to receive athlete of the week alongside her teammate, senior Alexandre Chevalier.
Quinteros is a freshman in the International Baccalaureate Program here at Gables. In addition to being on the Varsity Cross Country team, she is also on the Gables Varsity Girls Soccer team and plays on a field hockey team outside of school.
"
Catalina and Alexandre both won personal awards for their performance in the last race. Their work and their effort lead these teams to be better on a daily basis. They exceeded expectations for our biggest race this year, GMAC. "
— Cross Country Coach Mr. Nelson
Her passion for running is nothing new to her as she comes from a family full of runners. She ran her first 5k at the age of 8 and was on her middle school's cross-country and track and field team for all three years. Quinteros loves everything about running: the competition, the minutes of anticipation before the race starts, and the pre-race adrenaline.
Quintero's inspiration comes from her sister who was born with Rett syndrome, which has taken her ability to run and walk by herself. The support Catalina Quinteros receives from her when she is in the crowd, cheering her on, makes the freshman push herself even further and harder; her sister is her source of motivation.
"When she goes to watch my races and I see her with a big smile in the crowd, I immediately get motivated and start to exceed myself," freshman Catalina Quintero said.
While winning athlete of the week makes her happy and proud, Quinteros feels that it also gives her the responsibility of continuing to improve and keep putting forth maximum effort. Her goal for the rest of the season is to improve her time as much as possible and continue getting better in general. There is no doubt that this young Cavalier will continue to improve and succeed in her running and will take her talent far in life.
Alexandre Chevalier
Many seniors make their last year at Gables the best it can be in their own way. Chevalier has set many athletic goals in the past few years, and succeeded. Alongside Catalina Quinteros, Chevalier has gotten athlete of the week because of his significant performance on the Varsity Cross Country team. In the last race, Chevalier won 1st place with a 16:57 for a 5k.
Chevalier is in the International Baccalaureate program. Aside from Cross Country, Chevalier has shared a passion for endurance sports such as triathlon. He is also an athlete on the cycling, swimming and soccer teams.
Since he began training last year, he has made consistent efforts to be a team player and achieve all the goals he has planned for his personal athletic gain. Running has been acquired like, as he got into running through endurance sports such as triathlon. Through daily motivation, Chevalier tries to beat his personal best in order to perform better and better every time.
"I am very honored to be nominated as athlete of the week. Performing better than my previous race motivates me to train every day," senior Alexandre Chevalier said.
As the Cross Country season continues, athletes have shown dedication to winning their races and making themselves work for a better performance as a team. Chevalier shares that being a strong team is very important to achieving goals and expectations.
Although the season is almost over, Chevalier may take his talents onto other fields in the future after leaving Gables in 2021. In the meanwhile, he will keep motivating himself and those around him to be the best runners and teammates they can possibly be.