Cavalier Volleyball Faces True North Titans
The Coral Gables Senior High junior varsity and varsity boys volleyball teams faced the True North Classical Academy Titans in a tense game that resulted in Cavalier victory.
At the first set of the JV game, the Titans led the scoreboard, but after several touches, the Cavaliers came right back, chasing after the champion title. The Titans sent over countless free balls, playing it safe during the last two sets of the game.
The team worked through several obstacles during the match. For example, despite not having knee pads, their freshman libero, Mariano Beytia, did not stop hustling up and down the court to help his teammates carry out the rest of the plays. Even though the Cavaliers missed some of the balls, they made strategic plays such as dumping the ball over the net.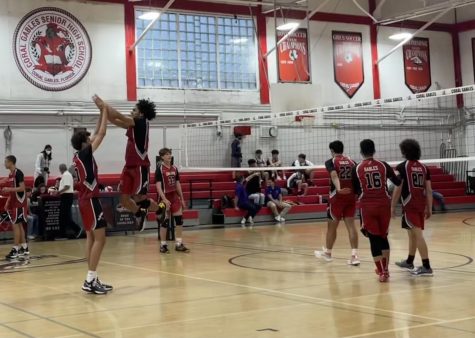 JV finished off strong with a score of two to one. After losing the first set with a score of fifteen to twenty-five, they quickly bounced back, took hold of the reins and won the next two game-deciding sets with scores of twenty-five to thirteen and fifteen to thirteen.
"The game was quite frustrating since we didn't perform to the best of our abilities but we were all relieved we had won the game," freshman Matias Amarillo said.
At around 7:30 p.m., it was the varsity team's time to play. The team had a quick warm-up that consisted of running, stretching, peppering with a partner and some training with members of last season's varsity girls volleyball team. Once they commenced their game, the JV team sat on the bleachers behind them, cheering on their peers and wishing them luck.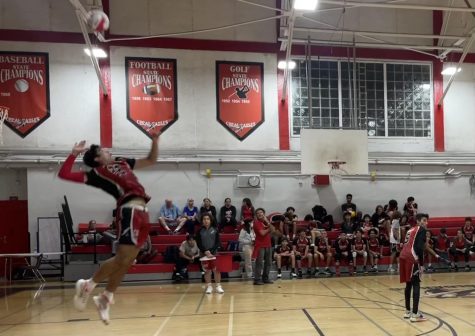 Throughout the game, the varsity boys highlighted their core abilities such as height in jumping, speed, and core strength. Because many participated in fall and winter season sports, the Cavaliers had plenty of pre-season conditioning that provided a lot more stamina and ability throughout the spring season.
The first half had the players running all across the court and diving to save the ball, which paid off when they ended the game with a victory and a score of three to one.
The varsity Cavaliers won their first two sets with scores of twenty-five to sixteen and twenty-five to thirteen, lost their third set seventeen to twenty-five and then fiercely came back in the fourth set and took the win with the score being twenty-five to nineteen.
"I thought the game was super entertaining to watch as balls were dug really well and the hits from Gables were just untouchable, which was super cool," freshman Chiara Abad-Sanchez said.
Throughout both games, there were a great number of assists, strong kills and spot-on sets. Cavaliers were able to gain many points with their consistent serves, allowing them to take home the win.