Flying Birdies: A Start to the Badminton Season
A spring sport, the Cavalier Coed Badminton Team has already been practicing since the beginning of February for their upcoming season.
At Coral Gables Senior High, players practice on four 44-foot Badminton courts in the gymnasium. English teacher Mr. Campagna, the Badminton and Bowling coach, motivates his team and guides the players who are new to the sport. He invites the players to recruit fellow Cavaliers, especially as the team is low on male players.
Practices are held in the gym after school Monday through Thursday and usually last about two hours, either from 2:30 p.m. to 4:30 p.m. or 5:00 p.m. to 6:45 p.m, depending on the day.
As the team comes in, they set up the nets in the gym. Practice officially starts with some stretching exercises, followed by one lap of lunges, karaokes, jogging and a final lap of fast-paced running around the volleyball court.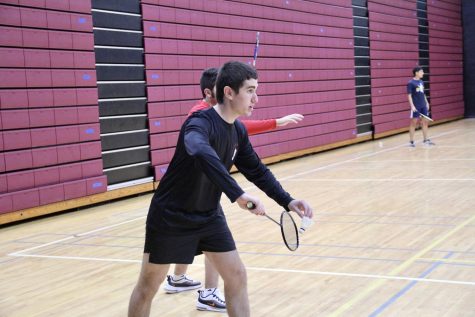 After stretches, the next half hour is usually dedicated to warm ups where teammates pair up and pass the shuttlecock with the purpose of hitting it back for as long as possible to get into the playing dynamic. Coach Campagna then pairs up players for doubles to play against each other and do a full match rundown, following game procedures to the point of keeping score and switching sides after each set.
Seeing how a full match works prepares the players for an actual game, making them more comfortable and ensuring that they do not make any scoring mistakes.
"My favorite part about badminton has to be how small of a team we are and how it creates a family because we just all bond. It allows all of us to help each other and work harder," junior Brianna Babani said.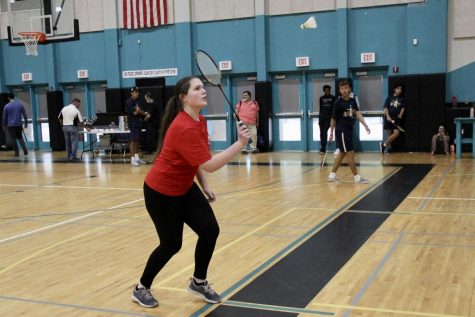 After a month of practice, the season officially debuted with Gables' first game, a tri-match against Coral Reef and Coral Park held in the Barracuda gym.
Winning their matches against Coral Reef, singles player Mariam Aguilar scored twenty-one to nine and twenty-one to nineteen, and doubles players Emily Kardijan and Tiffany Beh scored twenty-one to thirteen and twenty-one to seventeen.
"I am so happy to have brought home a win in our first match. I was extremely excited and energetic on the bus ride back to school, knowing that I won the first badminton match I've ever played. Badminton is such a fun, underrated sport that is much harder than it looks. I form many inside jokes and closer bonds, which is one of my favorite parts about being on the team," freshman Tiffany Beh said.
Certain players will advance to the Youth Fair at Coral Reef on March 8, as their performance was notable during the first game and practices. Only one singles and doubles player from each gender as well as a mixed team can attend. A friendly tournament, the Youth Fair groups together badminton teams from all over South Florida high schools to compete. Gables' next official match will be an away game on Mar. 18 against Ronald Reagan High.
The badminton team is continuing its practices with switches in doubles players to find the best pair to compete in future games. Since there are no state championships in Florida for badminton, the ultimate goal is to place in the Greater Miami Athletic Conference divisional tournament held in April at Coral Park.
For more information or updates, visit the Gables Badminton instagram @cghsbadmin.