Girls Basketball Celebrates Class of 2022 with Senior Night
While athletic seasons come and go at Coral Gables Senior High, no season is truly complete until the Cavalier tradition of Senior Night is celebrated. With the girls basketball term coming to a close, Senior Night was held on Friday, Jan. 28, the last home game before districts. Commemorating the girls who will be graduating as part of the Class of 2022, the festivity is a way to thank them for all their hard work on and off the court.
The Lady Cavaliers have four seniors on the team this year: Thais Forbes, Marta Rodriguez, Shamary Contreras and Nicole Martinez. Having all been on the team since freshman year, they have grown as basketball players, learning not only from their coaches, but also from each other.
"I feel like it had its ups and downs mentally and physically because I did have some minor injuries but I met so many amazing friends and had a great time with them," senior Thais Forbes said.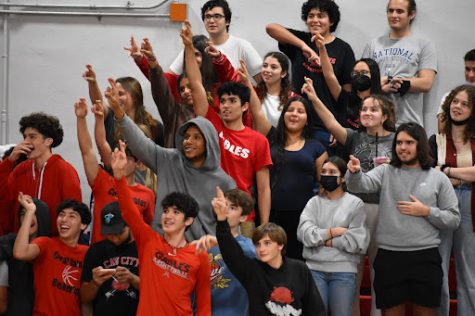 Playing against the Coral Reef Senior High Barracudas, the girls would face one of their final matches. At first, the Barracudas were winning, having control of the scoreboard by the end of the first two quarters with a six-point lead. However, the Lady Cavaliers were able to come back strong during the second half and get ahead, ending the game with a score of forty-seven to twenty-six.
To celebrate the seniors, the team prepared special gifts to show their love. Making each girl their own poster, personalized mini basketball hoops with their photographs on them and gift-baskets filled with their favorite treats, the seniors were showered in adoration from friends, family and teammates.
As an unexpected treat for after the game, the team decorated the locker rooms with streamers and a table filled with food for everyone to enjoy. They celebrated their post-game success with cake pops and other sweets, coming together to rejoice in the senior's final few moments as Cavalier hoopers.
"I want to say thank you to the team for everything did on senior night, it was absolutely amazing," senior Marta Rodriguez said.
The true spotlight of senior night was once the game ended; each girl was called onto the court to receive a bouquet of flowers and a sash that read 'senior'. As their accomplishments and best traits were read aloud to the crowd, they basked in their victory and took photos with their coach.
While some of the players strive to keep basketball as a part of their future, others are prepared to move on to other things in life. Although each girl plans to go their separate ways after high school, the memories made in the red and black gymnasium will forever remain in Cavalier history. Characterized by blaring cheers and cheek-to-cheek smiles on the four senior girls, the girls basketball senior night was a success.