Leonardo Grisard Just Keeps Swimming
Waking up every day at 5 a.m. to immerse himself in cold water or do reps that involve calisthenic training before the school bell rings, Leonardo Grisard is a dedicated swimmer who spends most of his time underwater. A junior in the International Baccalaureate program, Grisard dedicates time to his passion daily, working towards his future goals of beating his personal records.
Grisard's love for swimming stems from his family of athletes who share the same drive. Coming from Florianópolis, an island town in Brazil, Grisard explains that the majority of locals are involved in aquatic activities such as swimming, sailing, rowing and other types of water sports.
Although it has been some time since Grisard moved to the United States, having arrived at the age of nine, the swimmer never forgets his roots and often returns to his home country to give back to the community by teaching young children how to swim.
"
Leonardo is a really great person on multiple levels. Not only is he a kind and thoughtful person he is also an outstanding swimmer,"
— junior Audrey Simon
A member of both the swimming team at Coral Gables Senior High and the Ransom Everglades Aquatic Club, Grisard works out almost nine times each week to help develop his skill.
The majority of the exercises he does are aerobic because the longer length he swims, the better his performance. The rest of his training focuses more on power and explosiveness. A sprint swimmer who usually does not do anything over 200 yards, Grisard's reasoning for sticking to smaller distances is that the first time he was supposed to swim a mile there was a lightning strike, and he took it as a sign to stick to sprints.
"That's why sometimes I walk up to school smelling like chlorine and my hair's wet and I'm tired all the time. It is also why I eat a lot so if you ever have food to give me I'll be eternally thankful for you. Even though the workouts are overwhelming at times, I really enjoy what I do and it's an unexplainable attraction I have to swimming," junior Leonardo Grisard said.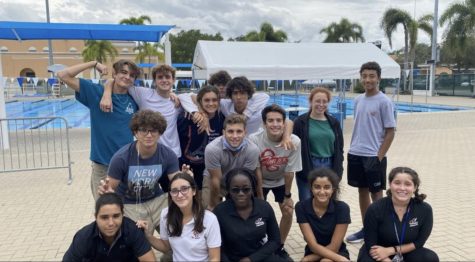 While Grisard looks to his family for motivation, one of his major role models is Cody Miller, an Olympian who has a condition referred to as pectus excavatum which reduces lung capacity. Although held back by his illness, Miller utilizes it as a form of motivation to represent his country, something Grisard hopes to accomplish one day in his journey to competing at the Olympics.
"Leo is a great teammate and kind of a father figure to the team. He likes to take leadership and is a role model… For example, he likes to give us speeches to inspire us. I feel like he reflects our team in a way that we are friendly and just want to see each other improve and be happy with our progress," sophomore Dylan Rodrigues said.
In order to stay on track and meet his expectations, at the beginning of every season Grisard writes down all his goals on a document. Afterwards, he puts it next to his bed so that it is the first thing he sees when he wakes up and last thing he sees before going to sleep.
Grisard lives by a simple mantra: "be better." Striving to keep the balance between his academics and athletics, the mantra is something he has grown up with and has allowed him to stay focused and excel at his passion. Grisard's constant desire to improve and to just keep swimming even when times are tough is the true definition of what it means to be a Cavalier.