Leaving Their Differences Off the Mat: Meeting the Girls on the Wrestling Team
Wrestling is often thought of as a sport of masculine exhibition where two males battle it out on a mat to assert their dominance. Without a doubt, wrestling is a very rough sport that requires patience and skill, and several Lady Cavaliers have taken on the challenge of breaking barriers in the rigorous sport, going above and beyond to prove their doubters wrong. The Cavalier Wrestling team has been fully supportive of the girls on the team and is looking to teach them everything that the sport has to offer.
Sara Richards
Freshman Sara Richards has recently found her passion for wrestling after her long-time friend joined the Cavalier Wrestling team and encouraged her to check it out. Richards had previously not known much about the sport or about the Cavalier team itself. After discovering the sport and talking to the wrestling coaches, she was eager to join the wrestlers and see what the sport had in store for her.
As the winter sports season kicked off, the Cavalier Wrestling team began their annual strength training and conditioning. During this time, Richards anticipated spending more time out on the mat, as well as the possibility of competing in the district championship competition. Richards has found a family in the wrestling team and she has been able to form bonds with many of the wrestlers.
So far, Richards has trained as much as possible during practice so that she can grow as an athlete, and learn the importance of resilience during intense practices.
"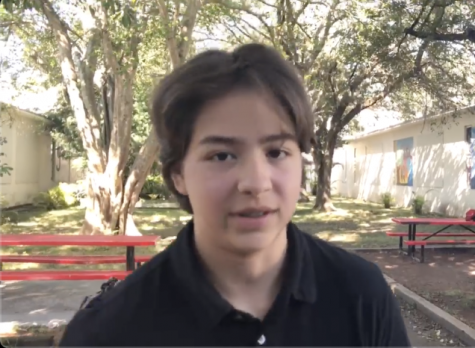 It pays off to train as hard as you can because it definitely shows when you compete. It is also extremely important to have a positive and enthusiastic mindset when showing up to practice; otherwise it is all for nothing because you will not enjoy the sport
— freshman Sara Richards
Victoria Benedetti 
Sophomore Victoria Benedetti joined the party a little late as she discovered her passion for the sport at the beginning of her second year as a Cavalier. Benedetti joined the team in hopes that she would find an exciting new way to become involved with her school.
She is looking forward to going all out during competitions and applying what she has learned at practice to anything that gets in her way. Although her time on the team has been rather short, Benedetti has still learned different techniques and skills that have led her to relative excellence in the sport.
Giovanna Flores
Junior Giovanna Flores is excited to be one of the few females on the wrestling team, taking this unique opportunity to show her skills as an athlete and show girls that they are able to do anything that they put their minds to.
Flores's friend, Eduardo Cruz, and Coach Hardy played a crucial role in encouraging her to join the team. Due to her interest in weight training, the wrestling coach approached her and advised her that she can take it to the next level.
"Being one of the only females on the team makes me want to train harder and be the best that I can be so that I can eventually better myself as a competitor. I know that I can reach the goals that I have in mind," junior Giovanna Flores said.
Flores is looking forward to improving and reflecting on her progress from the beginning of the season to the end of the season. She is also extremely optimistic for the competitions that she has yet to compete in so that she can show off the skills that she has acquired.
---
Although the wrestling team primarily consists of males,  these three trailblazing girls will be able to handle every obstacle that comes their way. Bettering themselves in their perseverance and skill by participating in a sport that is very physically taxing, these girls make up a strong team that supports and motivates each other, and this will inevitably benefit them when they compete and show their talents.